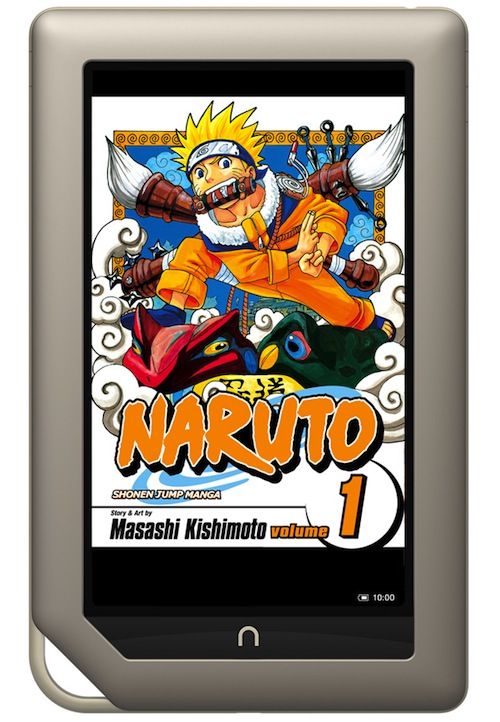 Viz Media announced earlier this year that they would make their digital manga magazine Shonen Jump available in five more English-speaking countries: United Kingdom, Ireland, Australia, New Zealand and South Africa. Now they have more news: They have launched eight shonen (boys') manga series in the UK Nook store.
The eight manga include their best-selling title, Naruto, along with One Piece, Bleach, Dragon Ball, Blue Exorcist, Toriko, Rurouni Kenshin: Restoration, and Nisekoi: False Love. And UK readers won't have to wait for their next fix, as the release includes the entire run of each book up to the present volume. That's 62 volumes of Naruto and 67 of One Piece.
Here's what Viz executive vice president and chief technology officer Gagan Singh had to say: "This is the first time these series will be available digitally anywhere outside of North America and we're extremely excited to work with NOOK on this groundbreaking partnership to bring some of our best-loved Shonen Jump manga titles to avid manga readers across the United Kingdom. Moving forward, all new volumes for these series will also debut digitally in the U.K. NOOK Store on the same day that they come out in print in North America!"
While Japanese licensors have traditionally put strict limits on manga licenses, region-blocking seems to be going the way of the dodo. Let's do a quick survey:
Yen Press, the second-largest manga publisher in the U.S., has an iPad app that is limited to North America, and most of its Nook titles are as well, but its online magazine, Yen Plus, is available worldwide. And at last year's New York Comic Con, they announced they had made an agreement to become the worldwide distributor for Square Enix's digital manga.
Kodansha Comics, which is actually the American arm of the Japanese publisher Kodansha, does publish digitally worldwide (even in Japan, as director of publishing services Dallas Middaugh told us recently).
Vertical has a relatively small number of digital manga, all available on Kindle and Nook, and their first round of digital releases are available worldwide, according to marketing director Ed Chavez, although that may not always be the case in the future.
Digital Manga's eManga site, which sells digital manga in a variety of formats (PDF, EPUB, etc.) is available worldwide.
Seven Seas and Udon Entertainment both distribute their manga worldwide via comiXology.

A former book editor and newspaper reporter, Brigid Alverson started MangaBlog to keep track of her daughters¹ reading habits and now covers comics and graphic novels for Comic Book Resources , School Library Journal, Publishers Weekly Comics World, Robot 6, and MTV Geek. She also edits the Good Comics for Kids blog at School Library Journal. Brigid was a judge for the 2012 Eisner Awards. Send her an email to wordballoons@gmail.com