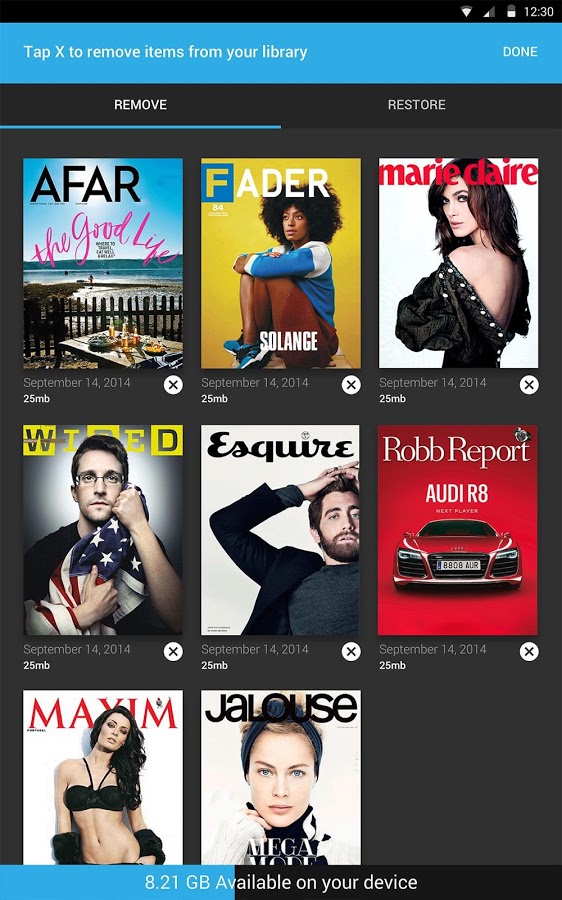 Libraries have been focusing on developing digital collections for a number of years. One of the ways they have been doing this is by removing most of their physical magazines and going with companies like Zinio. In the past, it was rather complicated to browse, borrow and read. The overall process has been simplified, with the advent of the new Zinio for Libraries app for Android.
Zinio currently has 2,600 titles in 12 unique languages representing titles from more than 25 countries. They distribute their content to libraries through Recorded Books, who is their main partner.
When it came to browsing the libraries collection of digital magazines, checking them out and then reading them was a bit complicated. Users needed two different apps, the Recorded Books Magazine App, which lets you check out magazines for free and a Zinio account, which lets you read checked-out magazines online in your browser or read via an app. Obviously needing two different apps is fairly redundant and a massive barrier to the average reader. This is why the new Zinio for Libraries app was created.
Zinio for Libraries was developed in order to allow patrons to check out magazines through your local library, login using your library account, then download them onto your Android device to read anytime, online or offline. You can browse, borrow and read to your hearts content. No longer do you need two apps, you just need this one.
In the next few weeks, Recorded Books and Zinio will be informing libraries that this solution now exists and will assist in training library staff how to use the new app.
Download Zinio for Libraries from the Good e-Reader App Store.