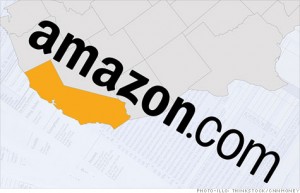 So much has happened since last year's furor over the various state governments setting their sights on Amazon.com. In what was actually being dubbed the "Amazon Tax" in some political settings, state after state began insisting that the online retailer collect and fork over sales taxes for online purchases.
For its part, Amazon relied on a 1992 US Supreme Court decision that stated that companies who worked through the mail—as there was nothing in the way of online shopping then—did not have to collect sales tax unless the company had a physical presence in that state. As Amazon has distribution centers and online affiliates in many of these states, a number of attorneys general demanded not only the collection of sales taxes, but also of moneys owed in arrears.
After the discussion quieted and the various agreements had been reached, Amazon worked things out with each state on an individual basis. Now, the September 15th date loomed ahead for residents of California to begin paying sales taxes on Amazon purchases, collected at the point of purchase rather than at a later date and on an "honor system" method of reporting online purchases to the government.
In an interesting twist, Amazon has been able to turn the tables on the entire situation. By agreeing to collect sales taxes from the consumers in states where it has a physical presence, Amazon was quick to recognize that new opportunities were at hand. With new distribution centers built in states where Amazon had to concede to tax demands, the retailer is able to offer an even more enticing level of shipping expedience. Additionally, the online power retailer is experimenting with shipping options such as free same-day shipping and shipping lockers, drop-points that allow consumers to pick up their purchases on the same day they were ordered.
Hopefully, the industry as a whole can take a lesson from Amazon: even in the face of difficulty, the company is going to find a way to revolutionize its business practices and turn negative situations into dollar signs.

Mercy Pilkington is a Senior Editor for Good e-Reader. She is also the CEO and founder of a hybrid publishing and consulting company.