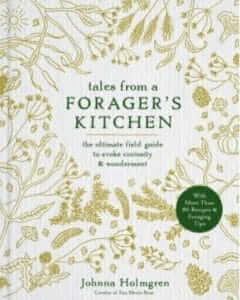 Never trust a skinny cook, as the old saying goes, and at the risk of body shaming anyone, Instagram "influencer" Johnna Holmgren is–to be honest–not the best source of information on how to live a healthy, robust life. Along with her chalk artist husband, the blogger's fondness for eating poisonous berries and wild mushrooms that induce vomiting and diarrhea, and it's not really hard to see why her cookbook is making news.
Unfortunately, the self-proclaimed social media guru of "foraging," which involves literally going out in the wild to find things to eat, published her lifestyle guide, foraging tips, and around 80 recipes in a cookbook produced by Random House's division, Crown. After critics pointed out that a number of the recipes contain things like raw acorns, elderberries, and morels, Crown has pulled the book and has offered a full refund to any individuals or stores that have already purchased it.
As of today, the book has finally been pulled from Amazon, although a search for foraging recipe books produces a number of results. Unsurprisingly, fellow Crown/Random House publisher Rodale Press has promoted the book in its publications, including Shape magazine.
While the would-be author's defense to critics was akin to, "Well, my husband and I eat them and we haven't been sick yet," the real blame for a complete disregard for human life belongs to the publisher and editor who decided that 130,000 followers on Instagram equates to some level of scientific, culinary knowledge. Basic online searches for Holgren haven't turned up anything in the way of oh, a degree in horticulture? mycology? an introductory understanding of the evidence-based science behind consuming raw mushrooms that one finds in the woods?
This book might have been passable if the intended audience was fellow foragers who've made a study of the back-to-nature health movement rather than Millennials who follow FoxMeetsBear online. It would have been far more understandable had it been written by someone with a degree and decades of experience to go along with the recipe for chocolate-dipped mushrooms. Sadly, that isn't what happened.
What did happen, though, was most likely in the form of a marketing meeting in which a handful of eager people, desperate for a bestseller, published something that was buzzworthy and came with a built-in audience of buyers who would talk about it online, regardless of what the content area was. We can only hope that this mistake was costly enough for the publisher that it prevents the publication of future titles like Cooking with Hemlock.
Mercy Pilkington is a Senior Editor for Good e-Reader. She is also the CEO and founder of a hybrid publishing and consulting company.