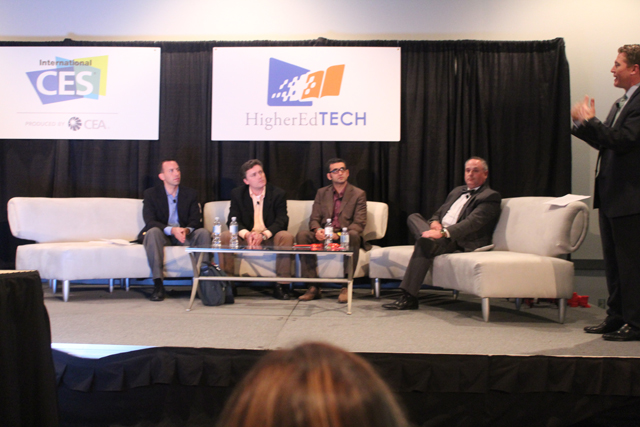 Many of the top digital e-textbook companies employ big data in the form of analytics to not only measure students buying habits, but also to provide the schools with measurable data. The Higher Ed Tech Conference just wrapped up in Las Vegas and many of the top companies, such as KNO and Coursesmart, were in attendance, giving their perspectives on how big data helps the educational system.
Kno Me is a new program the company has launched that will give students a visual dashboard of how effective their learning strategies and study time have been, as well as the option to follow their classmates' study activity to see how much they should study in order to have a comparative effectiveness. This dashboard will allow students to engage with their own patterns of learning behavior in an on-going basis, ideally before their grades are finalized.
CourseSmart Analytics is expanding beyond their pilot program today with the the CourseSmart Engagement Index. This is a a proprietary algorithm that evaluates standard usage data, such as page views, time spent in a textbook, notes, and highlights taken by a student, and assimilates them into an overall assessment of students' engagement with the material. Provosts, deans, course designers, and others can then easily assess the utility of adopted digital titles to ensure course materials are being used effectively. Faculty will be able to identify "at risk" students based on engagement with assigned course materials and correlate this to overall student performance, which will help to aid retention and ultimately, improve learning outcomes. Relevant data will be compiled into a convenient dashboard, which will be available within an institution's learning management system (LMS) or online portal, allowing faculty and administrators to integrate the powerful tool into their existing workflow.
Various analytics are mainly employed by the students themselves to track their learning and make adjustments. What about schools? Big data can be all too confusing for the Universities and Colleges. One of the biggest challenges is making schools use big data to make the right decisions. You have to put the data in the right person's hands that can understand it and actually make a decision. Bubble charts and graph statistics may be good for some people, while a comprehensive report in layman's terms may be suitable for someone else. There is no catchall data solution and finding new ways to present it is one of the biggest hurdles companies face.
One of the most practical solutions big data can accomplish for schools is to give guidance councilors and teachers daily reports. Many companies offer systems that monitors 24 different points such as grades, attendance, general participation, comparative participation between students, test scores, and other critical factors that are condensed and sent out at 5 am every morning. This can help allow the councilors to get to the students as soon as possible to see the student in person. They can find out if there are problems at home, financial problems, or even see if the teacher themselves are the problem. "Did they learn what they are supposed to learn?" This is hard to measure and quantify.
Here is a memorable quote from the conference, "Point of failure is a good point of measuring data. By the time a student receives their grade or GPA, it is too late for data to save them. Analytics are more important than just clicking on a buy button. Students that learn visually are forced to learn the way a school wants them to learn, this creates a gulf in the success rate of someone's education. Treadmills provide comprehensive data on miles walked, hills climbed, your time, heart rate, and other factors, big data has to help students in the same way."

Michael Kozlowski is the Editor in Chief of Good e-Reader. He has been writing about audiobooks and e-readers for the past ten years. His articles have been picked up by major and local news sources and websites such as the CBC, CNET, Engadget, Huffington Post and the New York Times.