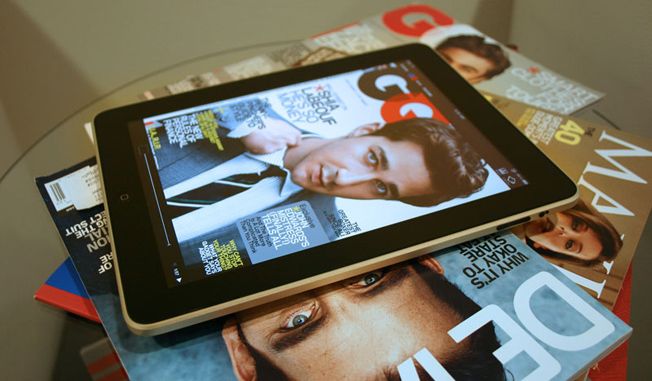 At this week's American Magazine Media Conference in New York, top CEOs and publishing experts from the magazine publishing sector examined the shifting role of their products and their viability in the digital age. While magazine publishing is still firmly rooted in the creation of a physical print product, digital magazine consumption has increased enough in the last few years to cause industry watchers to wonder, "What is the definition of magazine media in 2015?"
One particular panel at the conference included executives from Rodale, Conde Nast, Time, Meredith, and Hearst Publishing, and the question was posed to those industry leaders.
"You don't define yourself by your distribution vehicle and the magazine industry did that for too long," answered Joe Ripp, CEO of Time, Inc.
Caysey Welton, in an article on the conference for FolioMag.com, made a poignant observation on Ripp's response: "He makes a compelling point, but it doesn't really answer the question. It's true that most magazine brands are doing a lot more than producing a print or digital magazine. But, at the end of the day, magazines are still the core product for most brands. What's more, how does adding the word 'media' redefine the industry? By definition magazines are media; so adding the word is redundant and doesn't actually speak to what's happening, which is that brands and companies have more competition for eyeballs than ever before so they are building audiences across multiple platforms and extending themselves beyond content. In turn, that is disrupting the tried and true business model that magazines operated within for roughly a century."
The observation is especially interesting given the rise in popularity of digital magazines and their subscription apps. Zinio, for example, announced a new library partnership this morning that will bring nearly 300 magazine titles to library patrons with free access; leading all-you-can eat and library subscription app PressReader has upped that number to over 1,000 titles. With such a selection of content to choose from, is the magazine publishing sector keeping up, or is this a situation such as affects the book publishing space, in which a handful of major publishers control the content and therefore don't feel the pressure to adapt and keep up?
According to Welton, the answer is yes.
"There seems to be an implicit need to stay connected to the core product that built these five major publishing companies, and the industry—magazines. That's where things get a little dicey. Magazines, while still the bread and butter for most, will continue to decline in terms of where they fit into the revenue pie. Ripp admitted that, but said, 'We need to invest in new things that will offset that [decline].'"
Mercy Pilkington is a Senior Editor for Good e-Reader. She is also the CEO and founder of a hybrid publishing and consulting company.