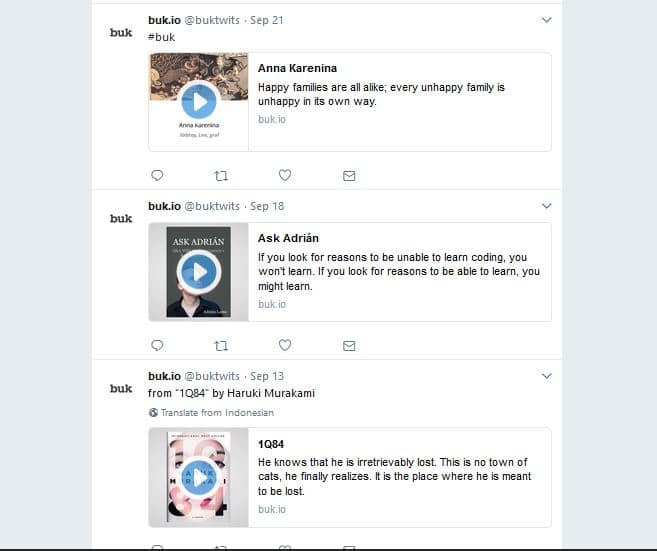 As reading consumers, we've gone from having no digital content to have more choice than ever before in ebook retailing, all in just a short amount of time. Truthfully, ebook retailers are like coffee shops: everyone has their favorite, but there's fairly little difference in what they offer, how they price their content, and the overall customer experience.
However, a new ebook retail platform does have a unique feature that stands to be a potential game changer in the social media promotion of books. "Buy my book" tweets are so ridiculous as to be borderline offensive, and for years, smart marketing experts have been begging authors to stop it. Book tweets are highly ineffective–studies have even been done on this–and they make the author look desperate; occasionally, they call into question the authors' writing ability due to the poor grammar overlain on the book cover's image.
According to an announcement from the company, "Buk is the only platform where digital book content connects directly with social media, which lets book lovers share their favorite passages. [It] lets any publisher/author upload an ebook and make it available either in a browser or a mobile app. This flexible platform currently provides over 50,000 public domain and paid books, as well as the ability to search Wikipedia from the platform. For publishers/authors, it is easy to use, as they can upload ePUB files for free and set up prices as they see fit."
The beauty of the platform isn't that it's yet another ebook retailer, but that the author can highlight any text in their work and turn that into a permanent embedded link, ideal for sharing on social media, using in email blasts, and more. Even better, this link is created in a tweet format, giving it a very professional look and feel, as opposed to some of the cringe-worthy results that some authors and even marketing services come up with.
Buk is free to use and available on the web, and also offers a complimentary app in the App Store and Google Play store. To test drive the platform with your ePub version, visit http://Buk.io.
Mercy Pilkington is a Senior Editor for Good e-Reader. She is also the CEO and founder of a hybrid publishing and consulting company.