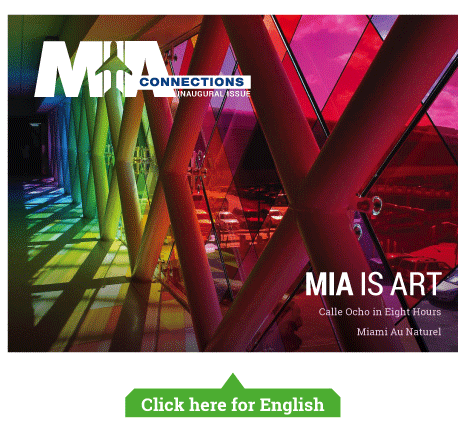 A variety of industries and business sectors have already seen the benefits in customer loyalty, marketing, and promotion that can come from digital publications, especially in the form of multi-device compatible apps. The hospitality industry, the higher education sector, libraries, and even hospitals have taken to using digital magazines to reach the client base they're most interested in, and companies like PressReader and OverDrive's digital periodicals catalog have helped make this possible.
A new segment has emerged in digital magazine apps, and that's the transportation industry, notably with the launch of a new in-house digital magazine from Miami International Airport (MIA). Aptly named MIA Connections and launched in conjunction with the Miami Herald's digital publishing division, this free magazine app will provide travelers with news, updates, historical information, cultural happenings, and more. It can be accessed for free from the airport's wifi connection, which offers access to limited websites (most of which are travel-related) without a connection charge or provides an extended internet connection for a fee.
The first edition of the magazine-which is available in both English and Spanish, contains an in-depth look at the art that is on display in the airport, along with information on the retailers and restaurants located inside the airport.
Airports and other transportation hubs are quickly realizing that the travel experience extends beyond the airport, but that the overall impression of the city starts the moment passengers arrive in the airport, whether its for arrivals or departures. While travelers were once viewed as a captive audience–after all, how else are you going to fly to Miami if you don't pass through that airport–there's been a significant shift in the way travelers are catered to. This is largely due to influences from not only the hospitality industry, but also the convention planning sector and the startup environment. As cities look for ways to lure both major conferences and new businesses to their regions, the airports, train stations, and bus stations have become part of the enticing equation.
Mercy Pilkington is a Senior Editor for Good e-Reader. She is also the CEO and founder of a hybrid publishing and consulting company.