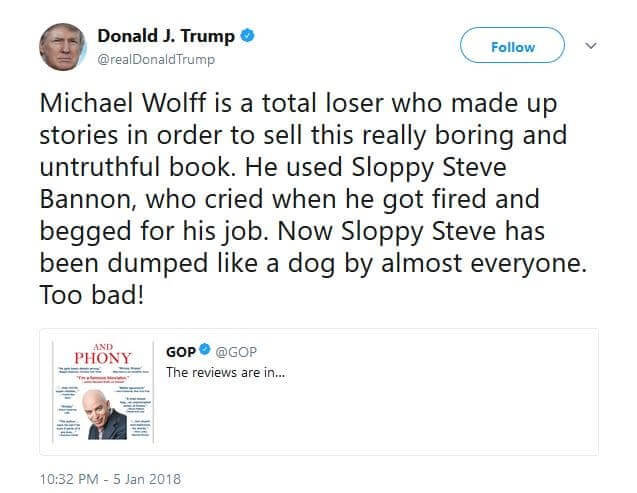 Michael Wolff gained unprecedented access to Donald Trump during the past year, and the results of that access are now on sale in the form of a no-holds-barred tell-all book, Fire and Fury. The title, published by Henry Holt/Macmillan and originally slated for a January 9th release date, was pushed up to the 5th due to record-setting pre-orders.
Despite the "my cousin made it on Microsoft Word"-looking cover, the content of the book promises to be spine-tingling. A large number of excerpts have been shared by news outlets who received advanced copies of the book, driving the pre-orders on Amazon. Now that the title is available, the print, Audible audiobook, and audiobook CD editions are all #1 in Books on Amazon, while the ebook is the number one Paid in Kindle Store title.
There's been a lot of controversy surrounding the book, namely that Trump himself has repeatedly tweeted that it's more "fake news" by a "loser" of a reporter. However, his legal team filed a cease and desist letter in an effort to halt publication on the grounds that the book violates Wolff's non-disclosure agreement. Which is it? Is the book a work of shameful fiction, or does it contain true information that was protected due to the author's signed agreement?
There will undoubtedly be more commentary in the coming weeks as the public gets a peek inside Trump's version of the White House. While his avid fan base seems as adamant as ever about his greatness, the author himself has stated in an interview that "one hundred percent of the people around Trump" question his ability to lead the country.
The scene at brick-and-mortar stores today has been described by some customers as "Harry Potter mania" as customers wait in line for their copies of the book.
Mercy Pilkington is a Senior Editor for Good e-Reader. She is also the CEO and founder of a hybrid publishing and consulting company.