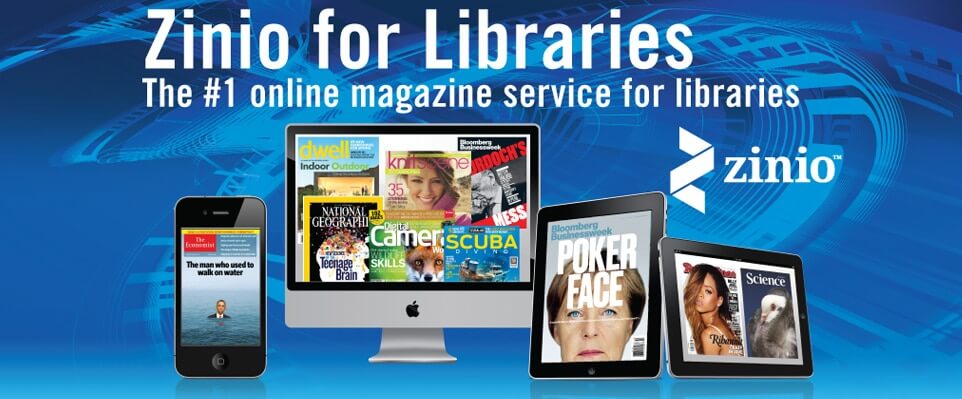 Zinio is one of the leading digital magazine providers for consumers, but in the library sector they depend on distribution partners. Recorded Books has been the main company they deal with in order to maintain a presence in selling their content all over the world. Last week, Zinio signed a deal with Boopsie to double down on the lucrative library market.
Since 2006, libraries have partnered with Boopsie to create customized apps that provide users with seamless access to content from every major eContent provider from OverDrive to EBSCO. Libraries that leverage the newly announced ZINIO and Boopsie integration will now offer users access to an additional 5,500 magazines from popular culture news sources like USWeeklyto specific interest titles like Popular Science and VegNews. The ZINIO collection features titles from a wide range of publishers such as Recorded Books, and will make over 3,000 articles available via the mobile apps daily.
"According to data provided by comScore for the month of January 2015, many news magazines receive significantly more visits from mobile devices than from desktops, with some of these magazines selling more digital copies of their publications than print," says Megan Vizzini, Boopsie's Vice President of Sales & Accounts. "It's clear that users are trending towards mobile access to news and we want libraries to know that we're here to help them quickly and efficiently respond to these evolving user preferences."
"Recorded Books pioneered digital magazines in the public library market and our Zinio for Libraries digital magazine service leads the industry in breadth of content and accessibility on any platform. Over the last nine years, Boopsie has quickly established itself as the leading mobile platform-as-a-service for libraries, enabling them to provide 24/7 remote library access on users' devices of choice. Simply put, it's a perfect match," said Jim Schmidt, SVP of Sales and Marketing for Recorded Books. "We're excited to work with Boopsie to provide users with access to even more content when and where they want it."
"Users expect easy and convenient access to interesting content." states Nicholas Wehr, Boopsie's EVP of Technology. "Boopsie's integration with ZINIO has been exactly this: a great merge of rich content with a quick and intuitive experience."
Beyond partnering with service providers like Boopsie, ZINIO operates the world's largest newsstand at Zinio.com and provides access to magazines available in the local language of more than 30 countries through their magazine reading app on iOS, Android, Kindle and Windows. With last year's acquisition of technology service provider to publishers Audience Media, ZINIO now also offers a complete suite of products for enabling publishers to produce and distribute their content across devices and across the world.