One the most elusive models in digital publishing has to be subscription-based ebooks, with companies around the world all seeking to be the Netflix or Spotify of reading. Everything from pay-as-you-read page view models to open, unlimited consumption have been tried, but nothing seems to have taken hold, at least not in a way like…well…Netflix or Spotify.
But Dusseldorf-based Readfy is hoping their own brand of subscription reading will finally prove to be what readers want. What makes their model different? It's free.
Very similar in structure to the base level of 24Symbols lowest tier in their freemium structure, readers can access unlimited amounts of content in the Readfy catalog while seeing ads embedded in the ebooks. But as 24Symbols and even Amazon have found out, readers are not clamoring to tolerate ads in their reading spaces, even for a bargain.
But unlike models that use the ad-embedded free model in order to encourage users to upgrade to an ad-free level, Readfy has no plans in its model to encourage signing up. What will prove to be difficult for the German company, however, is reconciling the readers' interests, the authors' interests, and the advertisers' interests; to date, both publishers and advertisers have both been wary of how digital is going to produce verifiable revenue based on the user experience.
One thing working in Readfy's favor that other similar attempts did not have is timing. Readfy's full launch, expected next year, comes at a time when reading consumers are already accustomed to social reading, sharing information on titles, and reading on smartphones, which means enjoying the portability more than the experience.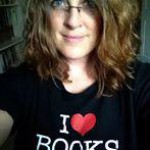 Mercy Pilkington is a Senior Editor for Good e-Reader. She is also the CEO and founder of a hybrid publishing and consulting company.