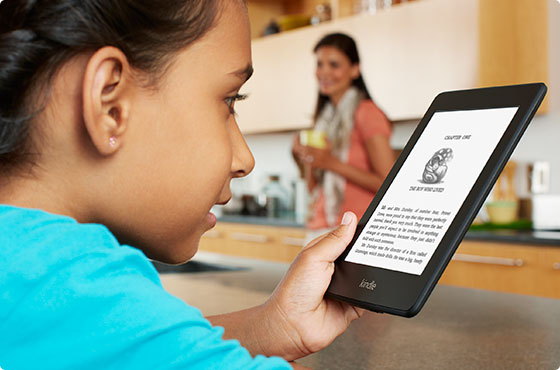 FULL DISCLOSURE: I was a classroom teacher for almost twenty years, the last seven of which were spent using a classroom set of Kindle e-readers. My classroom had more than 200 ebooks for the students to choose from, and it was a nightmare trying to make that innovation work.
But nightmares no more! Amazon has released an update for its Whispercast feature that will make life so much easier for K12 administrators, reading coaches, teachers, and students.
Before you wonder how Whispercast even applies to this setting, remember not to confuse it with Whispersync. That feature just makes sure your downloads happen seamlessly without the need for a cable, and makes sure that readers are in the same location in a particular book no matter if they read on their e-readers, listen to an audio edition, and more.
Whispercast allows content holders to "mass distribute" their content across devices. To give an example, when I would purchase an ebook for my classroom–remembering that Amazon's policy allows you to put a single purchase on up to six devices–I had to sit at my desktop and use the Manage My Kindle feature to deliver the book to six different devices, then had to turn on each device and tell it to sync. That process is time consuming, and really erased the "wow factor" of turning to a student who asked if I had a particular book and saying, "I do now. Check your Kindle."
The real educational benefit to the Whispercast 3.0 update, though, is the purchase order feature. Again, when I purchased the Kindles in 2009, I had earned a grant to buy the devices. The first year, we could only read the free content, which at the time amounted to a lot of public domain classics. The following year, I received the same grant and was able to start purchasing bestselling titles; the problem was in the special permission I had to get to make purchases. I had to use our school's credit card and store it in the Amazon account, something that is no small feat when you're dealing with a tax-funded bureaucracy. Eventually the school allowed me to put the remaining balance of the grant money on an Amazon gift card and store that in the system, which did streamline the process.
Thanks to the update, teachers can finally use school purchase orders to buy ebooks. Many schools to this day will not let teachers buy anything that cannot be a) paid for with a purchase order or b) have a "property of" sticker placed on it. It's a throwback to the olden days of purchasing, but at the same time, the slow adoption is at least forgivable when you factor in the fifty-plus teachers in a single school all trying to purchase supplies for their classrooms while still avoiding fraud.
One final headache that teachers have had to overcome was the need for an administrator (at either the school level or the school system level) to be "in charge" of the use of the devices and the Amazon account. That means that letting teachers buy ebooks for their class can take weeks before someone higher up has the chance to get to it, especially if it's someone who oversees several schools. That defeats the purpose of instant downloads, and makes even more work on teachers and school officials. The Whispercast 3.0 update allows for administrator oversight while still putting more control in the individual teacher's hands.
This might seem like a non-issue to ebook consumers on the outside of this situation, but this update is truly a huge development for bringing lower cost and highly adaptable ebooks to the classroom. It's sad how little penetration ebooks have gotten in the public school setting, especially when you consider the typical cost effectiveness, the ability for students with disabilities to manipulate the book, and the fact that ebooks won't become damaged and need to be replaced with even normal use.
Mercy Pilkington is a Senior Editor for Good e-Reader. She is also the CEO and founder of a hybrid publishing and consulting company.