The online bookstore landscape has changed dramatically in the last five years. There used to be a fair number of choices, such as the Blinkbox Books, Sony Reader Store, Diesel eBooks, Txtr and a myriad of others. One by one they all closed down because Amazon has been able to offer steeper discounts, offering readers incentives to buy the cheapest books possible.  This all changed with the advent of agency pricing where publishers determined the price of the ebooks, instead of retailers.  This allowed Kobo, iBookstore and Google Books to flourish.
Over the past few years the US ebook market has decreased by over 24% year on year and print sales are on the rise. The primary reason for this is due to Amazon not being able to set the digital price anymore, the publishers are doing that. This has led to an average increase of $5.00 per title and many people find that paying $15.00 to $22 for a Kindle book, is too expensive.
Amazon is certainly not a fan of higher e-book prices. When the company was very publicly battling Hachette over a new contract in 2014, they made some very critical remarks. "With an e-book there's no printing, no overprinting, no need to forecast, no returns, no lost sales due to out-of-stock, no warehousing costs, no transportation costs, and there is no secondary market – e-books cannot be resold as used books," the company wrote. "E-books can be and should be less expensive."
"When the price goes up, customers buy much less," the Amazon Book Team noted. "For every copy an e-book would sell at $14.99, it would sell 1.74 copies if compared at $9.99. So, for example, if customers would buy 100,000 copies of a particular e-book at $14.99, then customers would buy 174,000 copies of that same book at $9.99. Total revenue at $14.99 would be $1,499,000. Total revenue at $9.99 is $1,738,000."
Why are ebooks so expensive? I have a theory that publishers are afraid that cheap ebooks will steal sales from newly-released hardcovers.  Publishers count on hardcover sales to recoup a large part of their production costs. This is why a new ebook almost costs as much as a hardcover and is normally more expensive than a paperback. I also think a professionally-produced ebook still costs the same to write, edit, revise, proofread, advertise, promote, make cover art for, get reviewed by lawyers for potentially-libelous content. Even when you buy a physical book, you're paying mostly for those services, not the actual paper and cardboard.
Your local library is also paying more for ebooks since agency pricing was implemented. Very early on, publishers realized that e-books do not have as much legal protections as physical books do, because they are considered a service and not a product. This has resulted in the e-book cost increasing over  800% and limits on the number of checkouts being imposed.
The Toronto Public Library have been providing some very illuminating figures that really drive home how expensive ebooks really are. The new Michael Connelly novel Burning Room costs $14.99 on Amazon, but they are paying $106.00 per copy. John Grisham's Grey Mountain costs $15.99 for anyone wanting to buy the Nook version, but libraries pay $85.00. Interested in checking out the new David Baldacci novel The Escape? You can purchase the Kobo digital edition for $14.99 and libraries are gouged $106.00.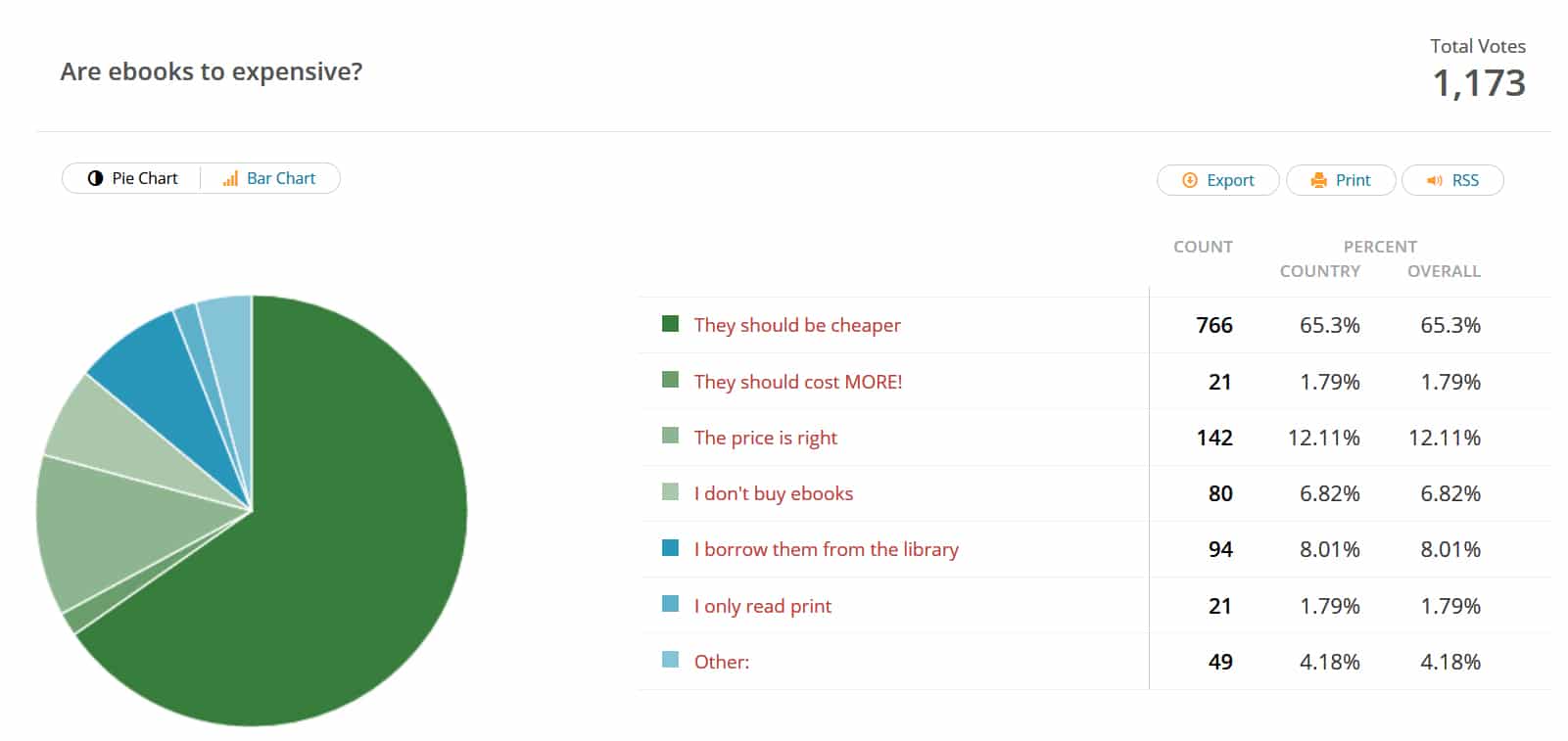 Good e-Reader recently conducted research and polled over 1,200 people on ebook pricing. 65% said they wanted ebooks to be cheaper and they are too expensive. 12% said that the price is right, but they would not buy ebooks if the price increased even further and 8% said they no longer buy ebooks and exclusively borrow them from the library.
Wrap up
Publishers do not report on ebook sales anymore during their financial report. This is because year on year they have declined since 2015.  They lump audiobooks and ebooks into a single digital category and the only the only they say is the decline in ebook sales were not as pronounce because audiobook sales have dramatically increased.
In 2016 ebooks experienced a decline of 14% and in 2017 they plummeted another 10%. Publishers keep saying that they do not see a correlation between the high cost of ebooks and the overall decline of ebook sales.
The entire reason I started to buy e-books was to save money. I was a huge evangelist on buying digital and paying less than print. Now the opposite is true, it's more cost efficent to buy the hardcover or paperback. I can loan it out to friends, showcase it on my bookshelf and I truly own it.

Michael Kozlowski has written about audiobooks and e-readers for the past twelve years. Newspapers and websites such as the CBC, CNET, Engadget, Huffington Post and the New York Times have picked up his articles. He Lives in Vancouver, British Columbia, Canada.