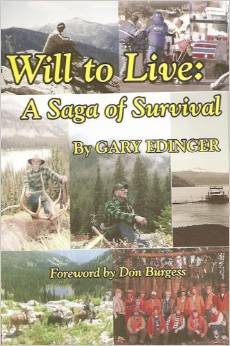 Verdict: 4 Stars
Despite Good e-Reader's focus on digital publishing and ebooks, when the chance to review this title came along, we took it. More than just because it was written by an indie author and we support the efforts of people who are revolutionizing publishing, this book was selected because the genre of memoir is so disergarded by the publishing industry to the point that they almost won't publish your life story unless you're a celebrity.
Kim Kardashian tell-all? Yes. Story of a man who cut his own leg off then crawled through a frozen wilderness to survive? Meh.
In this title, Gary Edinger explains in the first person his horrifying tale of survival, including the fascinating transcript of the 911 team who stayed on the phone with him after he finally got to his truck and attempted to drive while losing so much blood that he often made no sense during the call. But before getting to that point, Edinger outlines an incredibly clear, in-depth picture of his family's roots in the Yukon River region, generations of whom made their living through logging, hunting, and trapping, and filled their leisure time with sled dog racing. It's as if Jack London decided to wake up in the middle of the twentieth century and start writing again.
While Edinger may not be a celebrity or other person of note, this is the kind of story that draws readers in and fascinates them, despite what the publishing industry would have us believe about the marketability of a book. True, I don't know Edinger's great-great-grandfather and I don't really have any reason to care, except that the stories surrounding the author's past are what shaped him into the person who tried to staunch the flow of blood with his belt, only to have it break due to decades of use and the minus-20 degree temperatures that day. What did he do when the belt broke and he couldn't use it as a tourniquet for his leg? He kept going, finally getting a manual transmission truck started with only one leg, a leg that was arcing blood with every heart beat.
As a reader I found myself rooting for him, despite the obvious fact that I knew he had lived to tell his tale. It was heartbreaking when he realized how far he still had to drive to get help and might not make it, and instead told the 911 operator to tell his wife he loved her and to tell his kids he was proud of them.
I do wish the publishing service Edinger had relied on had a sense of the value of ebooks and a good cover, as well as the need for a great blurb on retailers' websites. Those issues can be overcome, and I hope the author chooses to do so.
Will to Live: A Saga of Survival is available from Amazon and Stonydale Press.
Mercy Pilkington is a Senior Editor for Good e-Reader. She is also the CEO and founder of a hybrid publishing and consulting company.