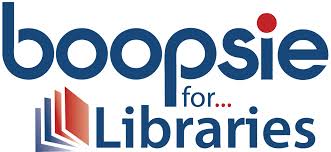 When library patrons think of ebook lending, they might be familiar with the powers behind the books, with names like OverDrive or 3M distributing content to their local libraries. But with survey data from as recently as 2012 indicating that the majority of library patrons in the US didn't even know their public libraries could lend ebooks, despite the current numbers that 90% of American libraries offer digital lending, there's an obvious disconnect between the services offered and patron adoption.
A mobile platform developer is working to change that, and so far, the results have been strong. Boopsie, a mobile app developer for libraries, has seen effective growth in US libraries that offer a branded app for their patrons to discover content, conduct research, check out ebooks, and more.
Boopsie works with some of the biggest names in ebook distribution to libraries, including ProQuest, EBSCO, Baker and Taylor, Recorded Books, Overdrive, and 3M Cloud Library. Even more beneficial to libraries, patrons, and rights holders, the company also works in retailing digital content, allowing patrons to purchase titles from names like comic and graphic novel platform Comics Plus and CoverCake, an analytics tool that helps drive vertical engagement through its in-app book discovery tool.
"2014 was a great year for Boopsie," said Tony Medrano, CEO of Boopsie, in a press release. "Not only were we able to work with the library community to develop technologies that more efficiently deliver library services to users, we were also able to secure strategic partnerships that are helping us grow internationally and into new markets with a leveraged sales force. 2015 will be filled with even greater product, service, content and developments for libraries."
But how strong is this growth? Boopsie has seen a 30% increase the number of new customers over the course of one year, and a 96% renewal rate. In a recent survey of over 1,000 patrons conducted in conjunction with the Washington State Library on the effectiveness of the state's Library Now app, 85.5% stated they use the Library Now App, and 74.8% use the library's other online services. A reported 43.8% of patrons report using the app at least once a week, while 58.3% reported that it makes using the library easier than before.
"Our partnership with the Washington State Library was a perfect opportunity to enable the state's innovative libraries to make more services available cost-effectively, to their diverse and increasingly mobile users," continued Medrano. "With our mobile app platform, the libraries are able to make their extensive print, electronic and human resources readily available beyond the library buildings to the general public whenever needed. The work we did with the State of Washington also helped us get closer to our goal of supporting libraries' individual and unique missions by providing scalable, reliable and easy-to-use library-branded mobile apps that users of library resources increasingly demand."
[ad#After Post]