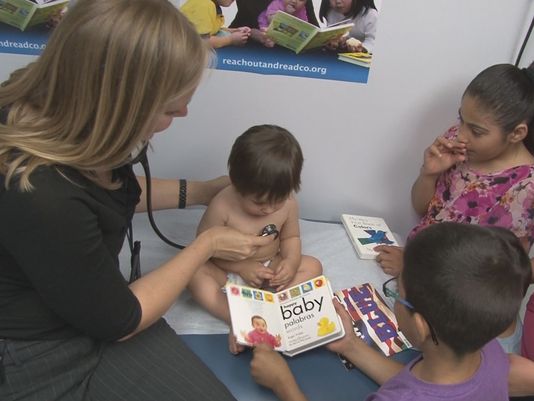 As parents head to the doctor's office to handle appointments over the summer break, they may be surprised to find a new kind of medicine waiting for them: books. Thanks to one program in Colorado, children who visit the pediatrician will not only have their sight, hearing, and general health checked, but will also be updated on the importance of reading, especially of reading with parents and as a family.
Studies have demonstrated over and over the importance of introducing children to literacy as early as possible, as well as the benefits of establishing a daily reading habit. Coupled with the focused attention of parents and the quiet time of unplugging for a while to curl up with a book, and a program like this one stands to produce great strides in language development, literacy and reading comprehension, and an overall increase in reading for pleasure.
The program, Reach Out and Read Colorado, makes books available to doctors' offices to give to their patients. This initiative is aimed at children ages six months to five years, and provides reading material for families; more than just a book handout, doctors have taken the necessary steps to become educated in the benefits of quality reading time, and therefore have begun to make this "reading prescription" a part of a child's well-checkup.
According to the organization's website, "Reach Out and Read Colorado is a 501(c)(3) that is part of the national Reach Out and Read program and is the statewide Coalition of Colorado's Reach Out and Read Sites. In 2014 Reach Out and Read Colorado will distribute more than 165,000 books to more than 90,000 children. Currently the program is administered at 230 clinics in 53 Colorado counties."
The project is welcoming donations of new and gently used books for distribution through its partnership with healthcare providers. A look at the group's websites shows the connection with early reading exposure and lifelong benefits, including school readiness and academic success, and a link to significant research findings into childhood reading can be found on the site.
Mercy Pilkington is a Senior Editor for Good e-Reader. She is also the CEO and founder of a hybrid publishing and consulting company.