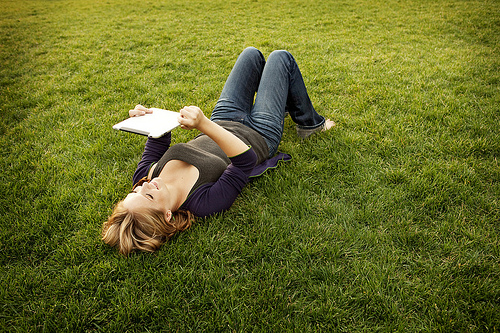 In a move that's sure to tick off… well, everyone… Amazon has released another list of cities that purport to have the most well-read populations. There are a few flaws in their data, such as the fact that the list was determined by book sales, not by some factor that actually demonstrates book reading as opposed to book shopping, but overall it was an interesting peek into consumers' book behavior.
While the list took into account book sales, magazine sales, and newspaper sales in both print and digital formats, it only looked at cities with a population of 500,000 or more. According to data from Demographia per the 2000 Census, that's only 71 cities in the US, which is hardly a representative sample and fails to include Knoxville, Tennessee, a city that has repeatedly topped another Amazon list for having the most romance readers.
In order, the top 20 cities that are now dubiously declared the most well-read include:
1. Seattle, Wash.
2. Portland, Ore.
3. Las Vegas, Nev.
4. Tucson, Ariz.
5. Washington, D.C.
6. Austin, Texas
7. San Francisco, Calif.
8. Albuquerque, N.M.
9. Denver, Colo.
10. Louisville, Ky.
11. Charlotte, N.C.
12. Baltimore, Md.
13. San Diego, Calif.
14. Houston, Texas
15. Indianapolis, Ind.
16. San Jose, Calif.
17. Jacksonville, Fla.
18. San Antonio, Texas
19. Nashville, Tenn.
20. Chicago, Ill.
"We're excited to see Seattle take the top spot on our annual Most Well-Read Cities list," said Sara Nelson, Editorial Director of Print and Kindle Books at Amazon.com, in a press release. "Summer has just begun and we hope we can help readers discover their next favorite books and contribute to their cities' well-read ranking."
Some other findings from Amazon's data mining include:
Seattle, Wash., the home of Amazon headquarters, not only purchased the most books overall but also purchased the most Kindle books, magazines, and newspapers.
Washington, D.C. residents, ranked #5 overall on the list, prefer the print book, outranking Seattle as the city with the most purchases of print books.
California is for readers with three cities making the top 20 list this year: San Francisco, San Diego, and San Jose.
Las Vegas is for lovers—their residents purchased the most romance titles.
Gone Girl by Gillian Flynn was the top-selling title in seven of the top 20 cities: Houston, Texas; Austin, Texas; Charlotte, N.C.; Tucson, Ariz., Louisville, Ky.; Albuquerque, N.M.; Baltimore, Md.
Mercy Pilkington is a Senior Editor for Good e-Reader. She is also the CEO and founder of a hybrid publishing and consulting company.