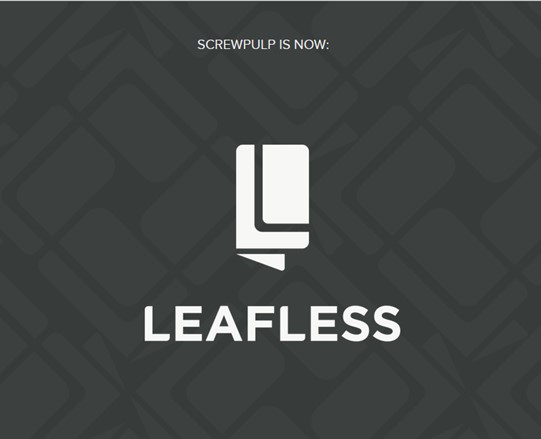 Despite the adage that you can't judge a book by its cover, you certainly can tell a lot about a company by its brand. Everything from its name to its company logo to even considerations like the office paint scheme and address can tell consumers volumes about the tones and attitudes that the company is working to present.
This is a part of the reason that the Memphis, Tennessee-based digital publishing startup Screwpulp, first interviewed by Good e-Reader at Book Expo last year, has undergone a facelift of sorts, with the most profound change being an entirely new identity as Leafless.
According to an explanation on Leafless' (formerly Screwpulp) website:
We're excited to introduce our new name, Leafless! Our focus has always been supporting authors with self-publishing in the digital space. We've built an open and accessible platform centered around this. We offer a no-cost, no-risk publishing solution for authors. We offer ebooks to readers in the most common formats. This allows them to enjoy reading on their preferred device. We want to continue to build on the great community and support our customers give us. Our new name, Leafless, aligns perfectly with those aims.
The name is much more approachable and is still consistent with our mission. Currently, we sell e-books. E-books are a digital medium. There are no physical pages. What could you call a book with no pages? Leafless!
Why the name change?
We realize that many of you loved our old name, Screwpulp. It was edgy and very bold. That's one of the things many love about us. When we began we wanted to be something fresh and different, and the Screwpulp name was great for that. Our Founder and CEO, Richard Billings, came up with the name. It combined the ideas of the screw press and pulp fiction.
Yet, there have always been some who took Screwpulp in a less than positive light. We want our customers to know that we're listening. We talked with a lot of our customers, engaged different groups, and tested ideas. Obviously, several just didn't care for the name. We wanted a name that our customers would embrace. A name that aligns with our core values. One that will help us continue to grow and serve authors and readers. That name is now "Leafless."
The recent name change took place after Screwpulp announced its website would be down for maintenance on February 9th, then relaunched with the update last Friday.
Mercy Pilkington is a Senior Editor for Good e-Reader. She is also the CEO and founder of a hybrid publishing and consulting company.