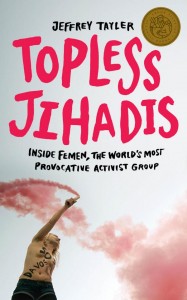 Verdict: 5 Stars
Its full title, Topless Jihadis—Inside Femen, the World's Most Provocative Activist Group, by Jeffrey Tayler, only succeeds in scratching the surface of what this book really stands for, namely depicting the 5,000+ member international group of self-titled "watch-bitches for democracy." For the lengthy period of time that Tayler followed the radical women's activists who are known worldwide for their topless protests, he chronicled and documented the inner workings and the outer reception of one of the most controversial protest organizations of the present time.
According to the author:
"Each Femen protest is contrived to shock, generate controversy, and come off well on camera. Wherever Femen strikes, it causes an uproar. The group professes to deploy beauty as a weapon. Femen's tactics, 'sextremism' and 'sex diversion,' basically entail using bare breasts during demonstrations to attract media coverage. Some critics dismiss the activists as mere publicity seekers, others as hysterics or, especially in the former Soviet realm from which they hail, as exhibitionists, as 'sluts,' as 'whores who should know their place,' as 'sexually frustrated bitches' (all quotes translated from Russian)."
But even more insightfully, Tayler had this to record from Femen's twenty-three-year-old founder, Inna Valerievna Shevchenko:
"Femen turns everything upside-down, including dress standards. French feminists have told me not to wear them, since I'm a feminist. But we're against the way feminists of the 1970s were. They're boring, they don't offer us anything today. We want to show that a woman isn't a sex object and isn't a product to be bought and sold, but we recognize we're different from men. We don't hide our
sex appeal or our attractiveness. We use them as tools against the patriarchy. We're saying feminists don't have to be ugly, fat, sexually frustrated women, the way people now think they are."
While parts of the text were muddled–such as the need to point out that specific members of Femen were not only heterosexual, but also sexually active, for some reason–the book in its entirety is an incredibly insightful look at a very misunderstood group. The depictions of people who are simultaneously irritatingly overbearing while also desperate to improve the perceptions about and lives of women are masterful.
The book itself is published by The Atlantic, and is available on Kindle.
Mercy Pilkington is a Senior Editor for Good e-Reader. She is also the CEO and founder of a hybrid publishing and consulting company.