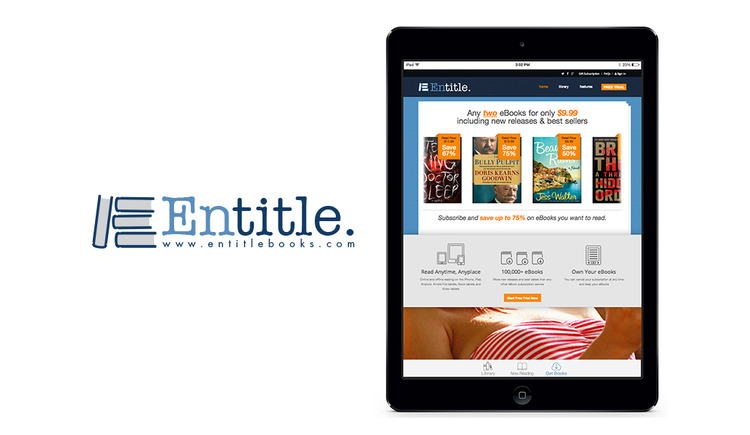 Entitle is one of the many companies now participating in the entire Netflix for e-books concept. They never managed to standout in a crowded marketplace that includes Amazon, Scribd and Oyster and never generated enough revenue to stay in business.  Starting July 21st 2015, Entitle will be closing and they are recommending their existing customers join Scribd.
Entitle, formerly named eReatah, allowed members to read two books a month for $9.99, or you could opt into the $14.99 tier for 3 books/month, or $19.99 for 4 books/month. Members will own and have permanent access to any books they download regardless of their subscription status with Entitle, and these books can be read on up to six devices. Members can read books on the newly-launched Entitle e-reading app for iPad, iPhone and Android devices.
During the Entitle run the company amassed a portfolio of 200,000 titles from over a thousand publishers, including Simon & Schuster, HarperCollins Publishers, Kensington Books, Berrett-Koehler, Houghton Mifflin Harcourt, Workman Publishing, Sourcebooks, Open Road Media, RosettaBooks and many more. Entitle is the only eBook subscription company to secure content deals with more than one of the major corporate publishers, and has titles such as Doctor Sleep, Life of Pi, Duck Dynasty's Si-ology 101, Beautiful Ruins, Miracles and Massacres, The Perks of Being A Wallflower, The Storyteller, and others. A few months ago the company became the first subscription service by launching a paid e-book store, this was done chiefly to offset their catalog of older titles.
What Happens to your e-books?
If you have any downloads outstanding you will be able to download those books up until July 21st after which point Entitle will be completely shut down.
If you need transfer the books that you have downloaded from the Entitle service to your computer or other device please follow these instructions and you can save the e-books to your computer.
What Went Wrong with Entitle?
Entitle was solely reliant on venture capital funding in order to keep the lights on, because the e-book subscription market does not have enough paid readers to make the business model viable on its own. When the company first launched they were able to raise $5.4 million and this this was enough to hire a number of people and develop a series of e-reading apps for all of the major operating systems.
One thing that Entitle had to face with a smaller company is having to placate publishers concerns of having their product permanently. Bryan Batten, Entitle's founder and CEO said "They're really apprehensive about going the same route music or movies went."
Not being able to convince publishers that e-book subscriptions are a viable model and failing to get enough international distribution rights limited Entitle to solely existing in the US market. I have always advocated that the United States is an overly saturated market with too many competing services and the key to growth is European and Pan-Pacific expansion.
The biggest problem that faced Entitle was the fact their company never came up in the conversation about e-book subscription sites.  Everyone just talks about Amazon, Oyster and Scribd because they blitz news organizations on every publisher they bring on board and hype new things happening with the company. Entitle was utterly silent and their Twitter account personifies their many problems. Their last post was was from December 2014 and before that, May 22nd.  Two posts, eight months apart does not bode well with trying to differentiate yourself from the competition or foster a meaningful community with your fledgling base of users.
e-Book Subscription Services Don't Work
Many of the world's top publishers don't currently support the subscription model and won't contribute their content to it. You would be lucky to find anything on the New York Times bestseller list in the Entitle catalog.
This has resulted in a high level of frustration for people who signed up for a service only to find out that none of the e-books they want are available. And the few big publishers that do contribute content to these services have learned from the music subscription services' experience and are protecting themselves. They don't want their content undervalued, which many artists and labels argue is happening with Spotify — where artists make less than $0.01 a play.
Tim Hely Hutchinson, chief of Hachette UK simply sees the current generation of e-book websites as not being viable. ""people are always pitching new models to me, and the first thing I say is that the existing model works really well. I don't believe in subscription. I don't see how it would do anything other than cannibalize the business we already have. I know other people take a different view. Within the limits of the law, I hope [HarperCollins UK c.e.o.] Charlie Redmayne will explain it to me, because I don't get it." Neither is he interested in selling direct—"I don't think the consumer wants it. The last thing I think we should be doing it undermining our customers, the retailers.""
Meanwhile Hachette Livre chairman and c.e.o. Arnaud Nourry said in a recent interview that e-book subscription sites are a flawed idea. "Offering subscriptions at a monthly fee that is lower than the price of one book is absurd," he said. "For the consumer, it makes no sense. People who read two or three books a month represent an infinitesimal minority. And there are bookshops. If I seem like a dinosaur, so be it. My colleagues at Penguin Random House say the same thing."
Wrap Up
Entitle deserved their fate as a company. They never really promoted anything they did and the public was mostly unaware that they even existed. They failed to carve out a niche for themselves in a crowded marketplace and limited themselves to the hyper competitive US market.
I believe other companies will soon start going out of business as the e-book subscription industry undergoes a period of consolidation when its soon going to be Amazon, and one minor US player.
Michael Kozlowski has written about audiobooks and e-readers for the past twelve years. Newspapers and websites such as the CBC, CNET, Engadget, Huffington Post and the New York Times have picked up his articles. He Lives in Vancouver, British Columbia, Canada.