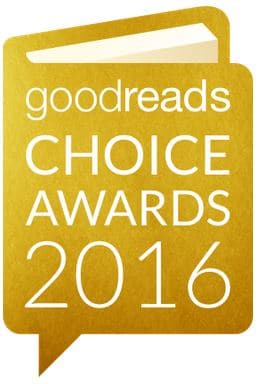 Some book awards are determined by panels of expert judges who seem to be fairly out of touch with the interests of the typical reader. Still others are the domain of the "inner sanctum" club where publishers and powers that be proclaim which books are worthy. For my part–and that of many avid book fans–those awards pale in comparison to being chosen by a vast sea of actual readers, such as in the case of the Goodreads Choice Awards.
How large is this voting pool of book lovers? Over three million votes strong in a wide variety of categories, broken down even so far as by age group. The 2016 round of the awards included some interesting firsts, such as the first time a father and son each won their own awards, a first for the highest number of votes a single book has ever received in any year, and a few authors who'd been nominated in the past and finally won this year.
While complete details of the competition and the descriptions of each winning title can be found in a post by Goodreads, the list of winners is below. Be sure to check out each title as some of the publishers have submitted copies of the book as giveaways; the entry button will be found on the Goodreads page for that title if it is included in a giveaway.
Fiction — Truly Madly Guilty by Liane Moriarty
Historical Fiction — The Underground Railroad by Colson Whitehead
Nonfiction — Hamilton: The Revolution by Lin-Manuel Miranda
Memoir & Autobiography — When Breath Becomes Air by Paul Kalanithi
Fantasy — Harry Potter and the Cursed Child by Jack Thorne
Mystery & Thriller — End of Watch by Stephen King
Horror — The Fireman by Joe Hill
Humor — The Girl with the Lower Back Tattoo by Amy Schumer
Science Fiction — Morning Star by Pierce Brown
Graphic Novels & Comics — Adulthood Is a Myth (Sarah's Scribbles, #1) by Sarah Andersen
History & Biography — Leonard: My Fifty-Year Friendship with a Remarkable Man by William Shatner
Science & Technology — Are We Smart Enough to Know How Smart Animals Are? by Frans de Waal
Food & Cookbooks — Cravings: Recipes for All the Food You Want to Eat by Chrissy Teigen
Romance — It Ends with Us by Colleen Hoover
Debut Goodreads Author — Rebel of the Sands (Rebel of the Sands, #1) by Alwyn Hamilton
Young Adult Fiction — Salt to the Sea by Ruta Sepetys
Young Adult Fantasy — A Court of Mist and Fury (A Court of Thorns and Roses, #2) by Sarah J. Maas
Middle Grade & Children's — The Hidden Oracle (The Trials of Apollo, #1) by Rick Riordan
Picture Books — The Thank You Book (Elephant & Piggie, #25) by Mo Willems
Poetry — The Princess Saves Herself in this One by Amanda Lovelace