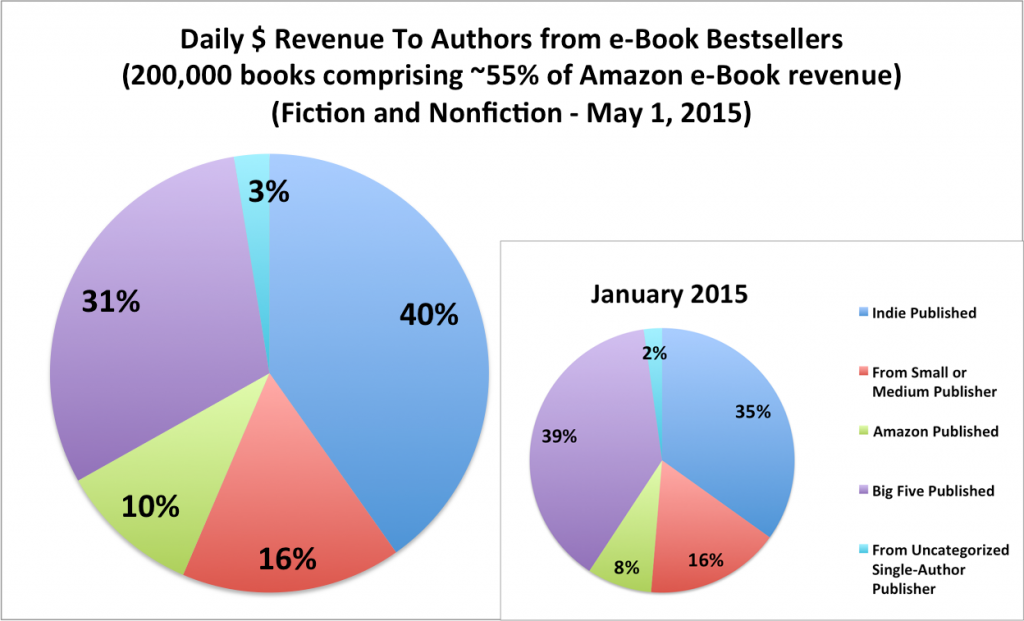 Hugh Howey and Friends (that really should be a trademarked superhero team name, as you'll see in a moment) has launched the sixth quarterly Author Earnings report, a seemingly flawless look at how ebooks are actually selling on Amazon. The reports have always served to try to get a better picture of how self-published authors are actually faring in the bookselling landscape, as well as prove that the mainstays of publishing are not the book barons they're made out to be.
While many critics from all corners of the industry have taken issue with these reports, the math is quite simply sitting in front of their faces. The results of this quarter's report have led to a startling look at what has happened to the Big Five publishers since winning their hard-won battle against Amazon to be allowed to set their own prices.
Spoiler alert: they're losing their iron-fisted grip on the bestseller lists now that their prices have gone up.
According to the report,"Since we started pulling this data, the average price of an ebook from a Big 5 publisher has gone up 17%. Compare this to a difference of 5% for self-published titles, or the increase of 7.5% across Amazon imprints. The prices for Big 5 published ebooks have risen quite steadily, rather than a sudden surge since the return to agency."
And now for the correlating shocker:
"In the last three months, the Big 5 publishers have seen a 26% reduction in the number of titles on Amazon's Best Seller lists. This means fewer titles are selling well enough to make these lists, and it also means fewer titles are receiving that added visibility."
It's interesting to see that consumers really do care about price. The long-standing belief has been that fine literature sells itself and readers are willing to pay for quality. That doesn't appear to be the case across the board, especially in scarier economic times. What we also see is that consumers do read, but if the price is out of their reach, they'll simply find some other work to enjoy now that there's an abundance of titles to choose from.
For a solid yet condensed look at the May 2015 Author Earnings report, check out Passive Guy's post, complete with many of the pie charts that the AE team is famous for. For the full report, click HERE to go to the AE site.