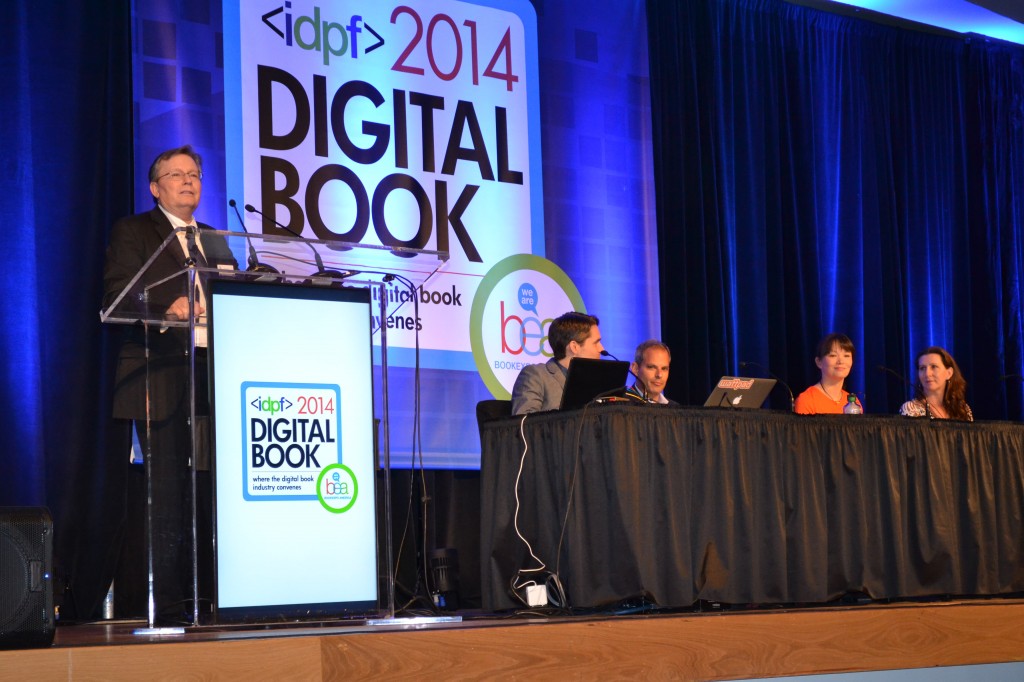 In a panel moderated by Porter Anderson of Publishing Perspectives, the IDPF stage hosted a cluster of professionals who are making tremendous advancements and innovations in the industry, but are in the world between major traditional publishing houses and self-publishing. Some of these so-called independent publishers, not to be confused with the current concept of indie publisher or indie author in terms of self-publishing, are long-standing publishing houses with major bestselling titles whose authors are household names.
The panel included some of the most innovative names in independent publishing, all with the understanding that there are great books available that the larger publishers won't take a chance on. One of the uniting factors of the four panelists–who included Thought Company, Diversion Books, Pegasus, and Soho Press–is that willingness to not only look at books as a matter of risk, but also to embrace digital publishing wholeheartedly for its ability to reach a high-level of readers while allowing them to release large numbers of titles each year, which for this panel includes between 90 and 120 titles annually.
"The thing that drives us is finding those voices that other people haven't discovered yet," explained Bronwen Hruska, of the family-owned Soho Press. "A lot of times we get midlist authors who have a difficult track to overcome, and that's something we've become good at."
Anderson posed the important question to the group: "What makes it harder than it should be?"
Jason Allen Ashlock of Thought Catalog Books pointed out, "You learn a lot about what people care about," when explaining his concern that fiction was a difficult obstacle, given that Thought Catalog has a website with 35 million users; the company can look every month at what those readers are engaged with when they publish non-fiction.
"The disproportionate number of books sold on Amazon, and the need for a wider distribution network," answered Scott Waxman of Diversion, who spoke at length about one factor that the publishing industry has not done well: direct-to-consumer. Diversion is looking for new ways to reach their readers, but increased distribution is a requirement for the industry to continue to grow.
"Our biggest challenge is that there's a lot of noise out there, not just a lot of books, but now, there are so many other distractions out there in popular culture," explained Jessica Case of Pegasus. "We're finding ways to find that balance and cut through the noise about the Kardashian wedding, and use those typical channels that have the same importance but don't have the same impact that they used to."
"Things are changing so fast, and you think, 'Oh my god, I get it, I know how to do this,' and that's not true anymore," continued Hruska. "A few years ago, there was a huge growth in ebooks and the sky was the limit, but everyone is seeing a real plateau or a downturn, but it's not that same feeling. The idea that you can't put all your eggs in one basket means it's important to remain all of the relationships with the retailers. You need the people in the bookstores loving the books and talking about them."
The panel continued with a word of support for libraries for the work they're doing to keep books–whether print, digital, or audio–relevant in the lives of readers.
Mercy Pilkington is a Senior Editor for Good e-Reader. She is also the CEO and founder of a hybrid publishing and consulting company.