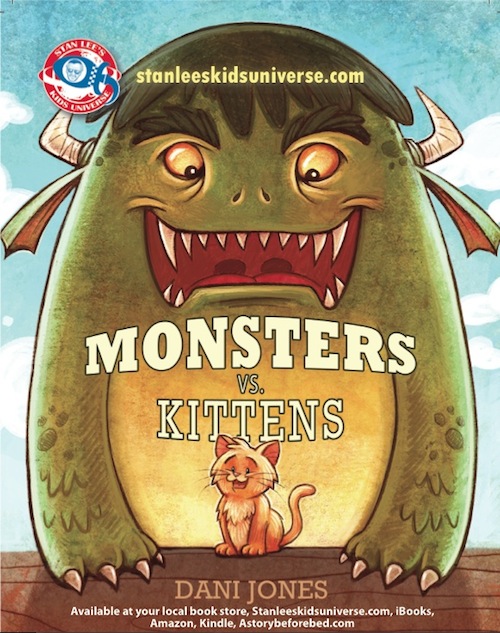 Stan Lee may have turned 90 last December, but he is still in touch with his playful side, and that came out last week with the debut of his Stan Lee's Kids Universe line of books, e-books, and games, all available in a single web portal.
The first book, Monsters vs. Kittens (available in print and via Kindle and iBooks), is a very cute children's book that uses monsters and kittens to compare opposites—monsters are big, kittens are small—but takes a few surprising detours away from that storyline as well.
There's a nice digital twist on this: Through the service A Story Before Bed, you can buy this as an audiobook, read by either Stan Lee or… you! Both versions are regularly priced at $6.99, but for now the Stan Lee version is $3.99 and the you-read-it version is free. A game is in the works as well.
Monsters vs. Kittens is the launch book in a series that, judging from this sample trailer, will feature quirky animal characters. That makes sense, because Lee is known for creating solid, interesting characters, such as Peter Parker, Spider-Man's alter ego. He is also known for lending his name to a variety of projects that he may or may not have a lot of actual involvement in, but his affection for these books seems genuine.
Also launching this week was Goobeez: Pirate Adventure, a game for iOS devices, which is pretty simple to play: You move a raft with your finger to let little fuzzballs bounce off a pirate ship onto dry land. Think of it as a less complicated version of Angry Birds. The game does speed up as you go along, but there don't seem to be any twists to it. At 99 cents, it's a good deal and will keep the kids occupied without frustrating them with impossible game levels.
The Stan Lee Kids Universe is part of 1821 Comics, a comics publisher that has a small line of other properties, and it was actually announced at New York Comic Con in 2011. Right now it's looking like a pretty small universe, with just one book and one game that have nothing in common with one another, but given Lee's enthusiasm and fertile imagination, it will probably expand quickly.
A former book editor and newspaper reporter, Brigid Alverson started MangaBlog to keep track of her daughters¹ reading habits and now covers comics and graphic novels for Comic Book Resources , School Library Journal, Publishers Weekly Comics World, Robot 6, and MTV Geek. She also edits the Good Comics for Kids blog at School Library Journal. Brigid was a judge for the 2012 Eisner Awards. Send her an email to wordballoons@gmail.com