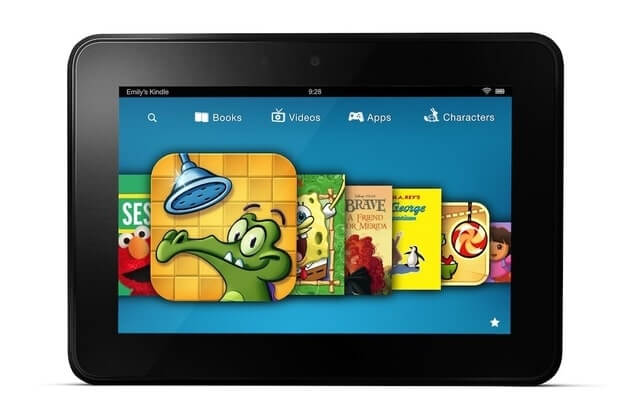 Amazon has  just introduced Kindle FreeTime Unlimited! It gives parents and kids access to ebooks, games, educational apps, movies, and TV shows all in one simple, unlimited, easy-to-use service for kids ages 3-8.  For a special monthly price of just $2.99 per child or $6.99 for the whole family, Prime members get unlimited access to thousands of popular kids titles.  Customers who are not yet Prime members can sign up for FreeTime Unlimited for a monthly price of $4.99 per child or $9.99 per family. Amazon plans on introducing these new features on the Kindle Fire, Kindle Fire HD, and Kindle Fire HD 8.9"  in the next two weeks.
When you enroll in Kindle FreeTime Unlimited, kids will have access to Andrews McMeel Publishing, Chronicle Books, DC Comics, Disney, HIT Entertainment, Houghton Mifflin Harcourt, Marvel, Nickelodeon, PBS, Reading Rainbow, Sesame Workshop, and more. All of the apps, games and ebooks will have advertising and in-app payments removed, to make sure the little ones don't rack up the bill.
The essence of this program is basically giving kids as many paid videos, apps, and games that they can consume. There are no limits on any of the media they want to watch, read, or play. Normally, Amazon Prime members get free two day shipping, 1 free ebook a month, and one Prime Video. This new project seeks to give you an 'all you can eat' for an additional monthly fee. Considering each kid friendly app costs around $2.99 and each book $3 – $10, this is worth it.
"As a parent, it's hard to predict what my daughter is going to enjoy, or which movie she's going to watch 50 times in a row—so I buy a range of content and hope for the best—but I get it wrong frequently," said Peter Larsen, Vice President, Amazon Kindle.  "FreeTime Unlimited gives kids the freedom to explore age-appropriate content on their own and pick for themselves what they want to watch, play, or read next.  For as little as $2.99 a month, your child will have unlimited access to thousands of popular books, games, educational apps, movies, and TV shows from Disney, Nickelodeon, Houghton Mifflin Harcourt, PBS, Sesame Workshop, and more."