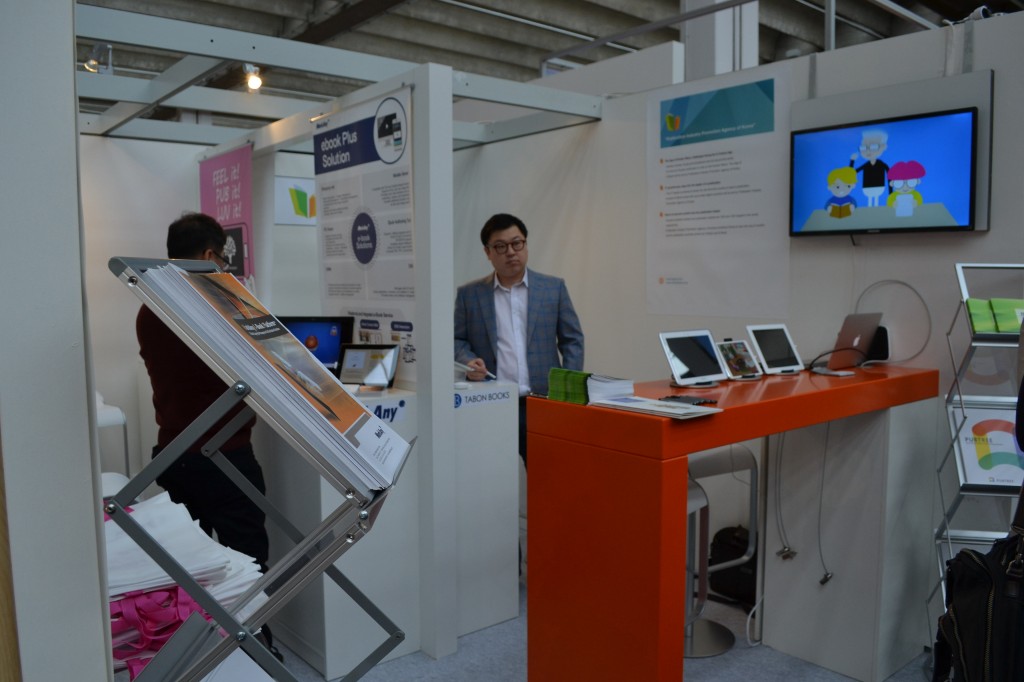 KPIPA, the Publication Industry Promotion Agency of Korea, was only one of the many foreign publishing entities represented at the Frankfurt Book Fair, so many, in fact, that signs on location are referring to this event as the "UN of Publishing." But what makes KPIPA so interesting is that it was actually formed by the South Korean government with representatives from four distinctly different business from the Korean book and technology sectors: Pubtree from Namo, Inc., Mbook Harmony, Tabon Books–all of whom are digital publishing platforms–and MarkAny, a digital security and copyright protection solution.
Ray SJ Ahn of Pubtree/Namo spoke to Good e-Reader about the state of digital publishing and ebook consumption in the Korean market, as well as what some of the factors are that might be driving the consumers' ebook habits.
"We're pushing [ereading] really hard," explained Ahn, "but there are still a lot of consumers who buy paperbacks. But as mobile devices are getting more popular, everything is becoming more digitized."
Ahn specifically referenced an initiative by the South Korean government to go to a strictly digital educational environment across all public school grades, a movement that is already taking shape and that will presumably be fully digital by 2015. This includes the use of smart boards and smart TVs in all classrooms, which has already occurred, and a greater emergence of tablets for students as young as elementary school.
"The classroom itself is transforming, too. Before, everyone carried the giant backpacks full of books, but now it's just an iPad."
But with so many people across different demographics using mobile devices, why isn't Korea leading the way in ebook consumption? One factor may be price. While not held to some of the laws found in Europe that required ebooks and print books to be the same price, the Korean ebook publishing arena still priced ebooks at only about 70% of the cost of a print edition, which wasn't an enormous savings, or at least not motivation enough to get people to abandon print. But as bookstores continue to disappear–even faster than in other countries, according to Ahn–ebooks are taking hold simply due to their availability.
Ahn also pointed to the younger generation of readers as being more fully immersed in their ebook consumption. As more and more working parents leave scchool-aged children for longer periods of time, they're turning to ebooks as a way for their children to be entertained, rather than letting them loose on the internet. This, in turn, has resulted in higher than usual numbers of titles being published for children.
Ahn went on to describe some of the processes which Korean ebook publishing platforms employ, notably a very user friendly drop-and-drag system which he compared to the ease of using Power Point, a factor which may lead to greater numbers of self-published authors, even as greater numbers of readers go digital.
Mercy Pilkington is a Senior Editor for Good e-Reader. She is also the CEO and founder of a hybrid publishing and consulting company.