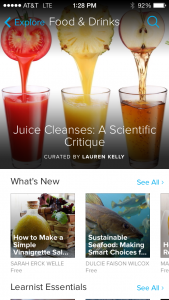 As more people around the world turn to free sources of information and education online, companies like Learnist have sprung to enable access to top content from both user-generated sources and experts in their fields. With the growing numbers of users returning to web-based reading and mobile device consumption, portability is also a must in order to make social learning feasible.
Today, Learnist announced its new app for iPhone and iPod, two devices that have a high level of penetration among consumers and are therefore readily available in classroom settings, even at the public school grade levels. This app has been unveiled in conjunction with Learnist's news that it is now offering premium Learnboards to its 10 million registered users worldwide, with most content from highly recognized names being made available for as little as 99cents with an in-app purchase.
Good e-Reader spoke to Learnist's founder and chief product officer Farb Nivi about the launch of both the app and the exciting new content, as well as discussed the importance of enabling this level of fingertip access to educational material that is both relevant and affordable.
"Learnist is basically about people sharing what they know directly with each other. Everything you want to know is available now online, and we couldn't make that statement even five years ago. We went from nothing on the internet to basically everything we know on the internet, so we came up with the idea for Learnist by letting them share what they know."
The company's Learnerboards are fully enhancement-capable stand-alone offerings that can be user created and collaborated, then made available for other learners to use. This has become an especially important tool for classroom teachers and has seen a dedicated following of educators among registered users.
"Learnist is like a crowdsourced collection of the world's knowledge. And with this update–a completely new app, really–one of the things that we're very excited about is that we'll be offering premium content for sale for 99cents from really notable experts."
These so-called "celebrity" experts who've already signed on to contribute content include names like director Gus Van Sant, actress and activist Olivia Wilde, designer Danny Forster, MythBusters TV host Kari Byron, former NFL star Dhani Jones, author Brad Meltzer, and more. Nivi went on to make the point that the speed with which an expert signs on to create a new Learnerboard and then Learnist makes that content available is almost unheard of, sometimes taking place within only a matter of four to six weeks. This helps ensure that the topics available to Learnist users are both timely, and up-to-date in terms of accuracy.
One of the most exciting features of Learnerboards is the dynamic of the content itself. Where consumers initially needed to purchase an entire book or textbook, this content allows users to focus only on the content they need at a far more affordable price point for the content. This premium content, when coupled with the high volume of free content that is also available, enables Learnist to meet the public's information needs via reliable and practical application sources.
The app is available today for iOS.
Mercy Pilkington is a Senior Editor for Good e-Reader. She is also the CEO and founder of a hybrid publishing and consulting company.