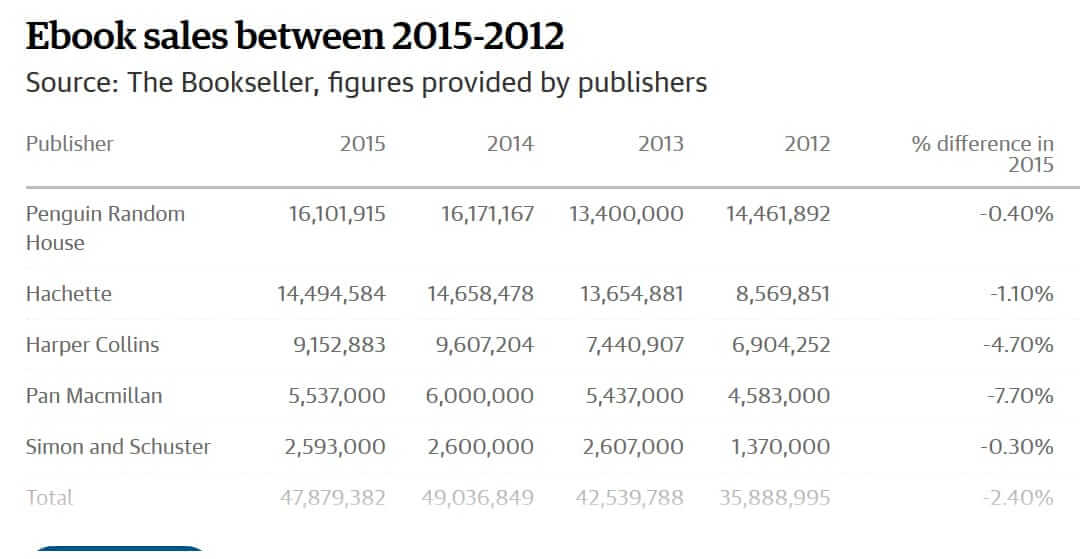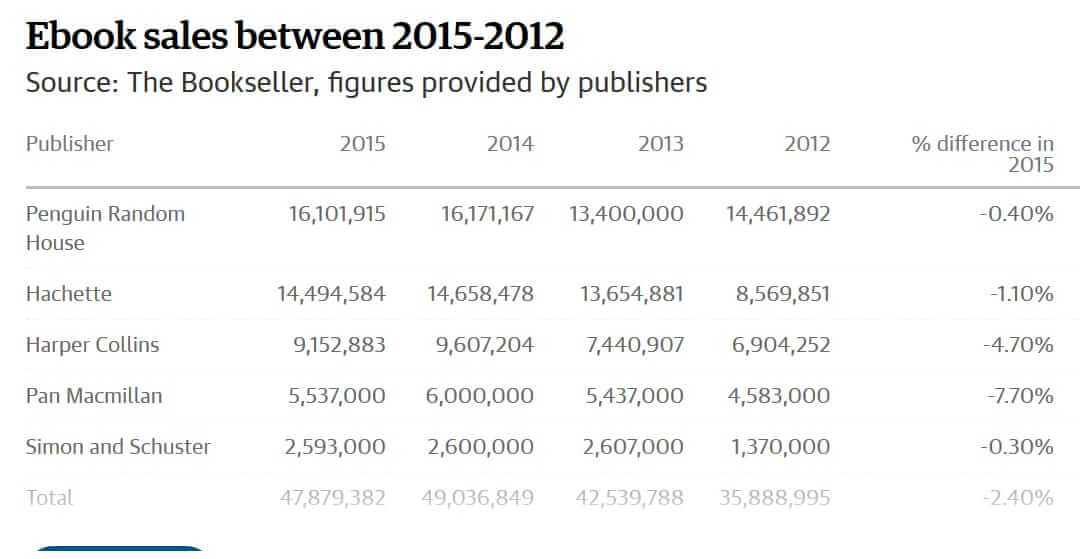 The top publishers in the United Kingdom have experienced a small decline in e-book sales. Collectively they experienced a 2.4% loss in digital sales, which is partly attributed to higher prices.
The Bookseller magazine says that each of the five biggest general trade publishers in the UK – Penguin Random House, Hachette, HarperCollins, Pan Macmillan and Simon & Schuster – saw their e-book sales fall in 2015. At Penguin Random House, the UK's largest trade publisher, e-book totals slipped by 0.4% in 2015, down from 16.17m to 16.1m. At Hachette, they were down 1.1% to 14.5m, while at HarperCollins, when sales from Harlequin Mills & Boon are excluded (the company was acquired halfway through 2014), e-book sales were down 4.7%. The slip at Pan Macmillan was 7.7%, and at Simon & Schuster it was 0.3%.
Data on the whole of the digital market is not currently available, so the Bookseller has estimated that if the big five hold a similar market share in digital as they do in print (56%), there were 85.5m e-books sold in Britain in 2015. Author Earnings, which uses a software programme to crawl Amazon's bestseller lists and collect data, paints a different picture of the UK market. In a November report, it claimed the big five account for 31% of all ebooks sold on Amazon.co.uk, while self-published authors have reached 26%.
Adding its own total to the number of print books sold in 2015, the Bookseller estimates that there were 276.2m print and digital books sold in 2015, 2.9% up on its 2014 estimate, with digital accounting for 30.9% of all volume sales, down from 32.7%.
What does it all mean?
In the United Kingdom we are starting to witness a co-existence between print and digital. The slowdown in digital is basically directly proportionate to the growth of paperback and hardcover sales in local bookshops.
Waterstones chief executive, James Daunt, feels that "the advantages and disadvantages of digital reading are becoming better understood … This is resulting in a partial return to physical book reading as e-book reading finds its natural level. In particular, this is favoring good publishing: with good books, there is a clear benefit to owning the real thing. A bookshelf of real books makes its digital imitator seem pale indeed.
Real books is partly why Waterstones decided not to renew their contract with Amazon to sell Kindle e-readers last October. Daunt said there had been no sign of a "bounce" in Kindle sales, so the company was "taking the display space back" to use for physical books instead.
I don't think that e-book sales are going to fall as dramatically as they did in the United States. The UK market is much smaller and people have firmly embraced digital reading. The medium has shifted from e-readers to smartphones and tablets, but people continue to buy e-books, despite the rising cost of them.

Michael Kozlowski is the Editor in Chief of Good e-Reader. He has been writing about audiobooks and e-readers for the past ten years. His articles have been picked up by major and local news sources and websites such as the CBC, CNET, Engadget, Huffington Post and the New York Times.