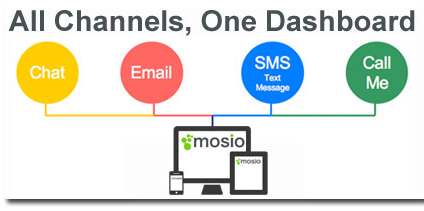 Libraries are certainly working under difficult constraints while working to remain a relevant source of community support and engagement. The constant slashing of budgets, reductions in staff and hours of operation, and the obstacles libraries have faced in ebook lending have all led to stress levels of many libraries. But a new service from Mosio will add a layer of relevance and connectedness that can help librarians stay in touch with their patrons through virtual contact.
"Mosio helps librarians increase their discoverability, accessibility, and availability," said Noel Chandler, Mosio co-founder and CEO, in a press release. "Patrons have millions of choices when it comes to finding information online, and that information may or may not be authoritative. By helping librarians embed themselves in multiple online locations, we ensure that patrons have real-time access to the support they need to make better information decisions and achieve greater outcomes."
Mosio's beta customers have already embedded the customizable OmniWidget in more than 10,000 places including the ProQuest, OverDrive, EBSCO, OCLC and Exlibris platforms. A number of libraries have indicated more patrons reach out to them via the widget than their current Contact Us pages.
"Since customizing Mosio's widget with our library branding and integrating it with our website and databases, we have seen more patron engagement and higher usage of our electronic resources," said Linda Jones, Education Librarian, Dixie State University. "Working with Mosio means we can provide a higher level of service while collecting the data we need to prove ROI to key stakeholders."
This instant access to libraries and their support administrators in the places that patrons naturally look–like Facebook–can help the public perception of what purpose libraries serve, all while allowing librarians to connect with the people their institutions serve. This increased engagement is important for demonstrating traffic to the powers who create budgets, as library traffic is no longer limited to bodies who walk through the doors.
To try the service and join more than 2,000 member libraries who currently use Mosio's features for patron connection, librarians are encouraged to visit Mosio's trial link HERE.
Mercy Pilkington is a Senior Editor for Good e-Reader. She is also the CEO and founder of a hybrid publishing and consulting company.