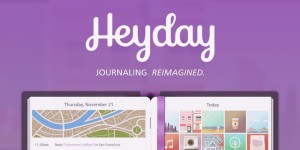 A new app, Heyday, that joins a growing list of mobile apps that help users keep track of their days in a journal format. Heyday, along with apps like Saga, use the user's stored photos, status updates, physical locations, and more, to create a journal of that person's daily life.
But where this app can really come in handy is for authors who need a record of their daily activity, for a variety of reasons. From memoir writers to people who find that inspiration strikes at the oddest times, journaling–specifically via convenient apps–can help authors keep track of their writing.
Part of what has made Heyday (not to be confused with the virtual farming game, Hay Day) so appealing is its low-battery drain, as it only records the user's actual stops, not their travels along the way. This can be especially useful for authors who brainstorm in a coffee shop, for example, or during a long commute. Also, the app basically works on its own, not requiring input from the user, although the writer can add text to the events that the app records.
While Heyday does require access to the user's location and camera roll, it claims to not post anything to the user's social media, unlike apps that make this type of data known across registered social media accounts. The app takes time stamped images and creates a looping journal out of them, allowing the user to add notes and text.
Organizational apps like this are becoming widely popular among writers, as many authors are still members of the daily work force and often grab time to write or plot at inopportune times. Of course, with busy schedules outside of work, technology is still helping authors organize and stay on their writing targets.
Mercy Pilkington is a Senior Editor for Good e-Reader. She is also the CEO and founder of a hybrid publishing and consulting company.