One of the startups featured at today's Startup Showcase at the CONTEC conference, part of the events surrounding the Frankfurt Book Fair, is Paperight, a company that seems to fly in the face of everything that is happening in publishing at the moment. Not only is Paperight working to put print editions in reader's hands rather than the more affordable, more accessible digital versions, it's also contracting with photocopying shops to print books on their copy machines, something that raises eyebrows among publishers.
Tarryn-Anne Anderson, chief operating officer of Paperight, spoke to Good e-Reader about the need to put its business model in place for the estimated two to three billion people worldwide who do not have access to books.
"Paperight is essentially a network of print-on-demand copy shops that print out and sell books quickly and legally. We started Paperight because our founder was in publishing for a long time, and tried to start the ebook revolution in South Africa fifteen years ago. What he found was that the industry was about five years behind."
Paperight's model brings books to people who don't have access to the internet or the necessary credit cards to purchase them online by licensing titles to the shop owners who then sell a licensed copy of the book to a customer, then print and bind the book. Much like the Espresso Book Machine kiosk that was supposed to make small stores and bookshops into print-on-demand centers but without the high cost of technology, Paperight allows copy shop owners to not have to turn a blind eye when a reading consumer resorts to illegally copying a book due to lack of otherwise access.
Around two million people in South Africa made up the book market, leaving an additional 49 million without access to even a bookstore. By allowing readers to purchase a printed version from an ebook through the company–embedded with the customer's name and phone number as a watermark, along with identifying data on the bookstore–Paperight is working to increase access to reading material in a legal, viable way.
A large segment of the market that has relied on Paperight is actually in education, where it can take between three and six months for printed textbooks to arrive. By allowing schools to print licensed, legal copies, students have more instantaneous access to material.
Paperight has already won awards for innovation at Tools of Change, London Book Fair, and in South Africa, and today is up for an award through the Startup Showcase.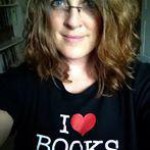 Mercy Pilkington is a Senior Editor for Good e-Reader. She is also the CEO and founder of a hybrid publishing and consulting company.