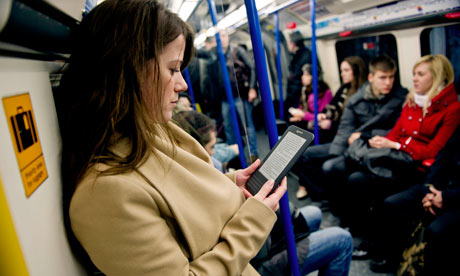 Contrary to the general perception, ebooks are not all the rage in every part of the world. Take for instance the findings of Nielsen BookData compiled in its latest report, Understanding the E-book Consumer that has revealed a 9% decline in sales of ebooks in May over the same period a month ago in the UK. The drop in sales is recorded over almost all segments including non-fiction as well as children's books.
Value sales of ebooks are down 12.2% on a year on year basis so that the corresponding figure in monetary terms stands at £10m. This has been attributed to an increase in the cost of ebooks which in some case costs even more than the hardcover version of the same. For instance, the latest JK Rowling novel, The Casual Vacancy can be bought for £9 after a £11 discount on the original price. However, the same in ebook format is costlier at £11.99. Similarly, the hardcover version of the book, The Chronicles of Downton Abbey which is sold along with the TV series also enjoys about £3 price benefit for the hardcover version which is sold at £12.99 as an ebook. The same as a hardcover is cheaper at £10.
In terms of volume, sale of ebooks are down to 3 million ebook sold which corresponds to a decline of 25.7% over the previous year. However, ebook sales are still ahead of what it was a year ago, with Amazon claiming they are selling 112 ebooks to every 100 hardcover books sold via their store. During the first 6 months of the year, ebook sales have reached 22 million in the UK which is worth £66.2m. This marks an increase of 9% in sales and 11.2% in value terms over the same period in 2012.
Also, it is the sale of ebook in the fiction segment that is expected to reach 59.7% in 2014 over all other segments. Sale of ebooks in the non-fiction category is expected to contribute about 29.5% to the overall sales with children's titles making up 10.8% to the ebook revenue in 2014.

Sovan Mandal is the senior tablet and tech corespondent for goodereader.com. He brings a international approach to news that is not just applicable to the North American market, but also Asia, India, Europe and others. Sovy brings his own writing flavor to the website and is interested in Science Fiction, Technology and Writing. Any questions, send an email