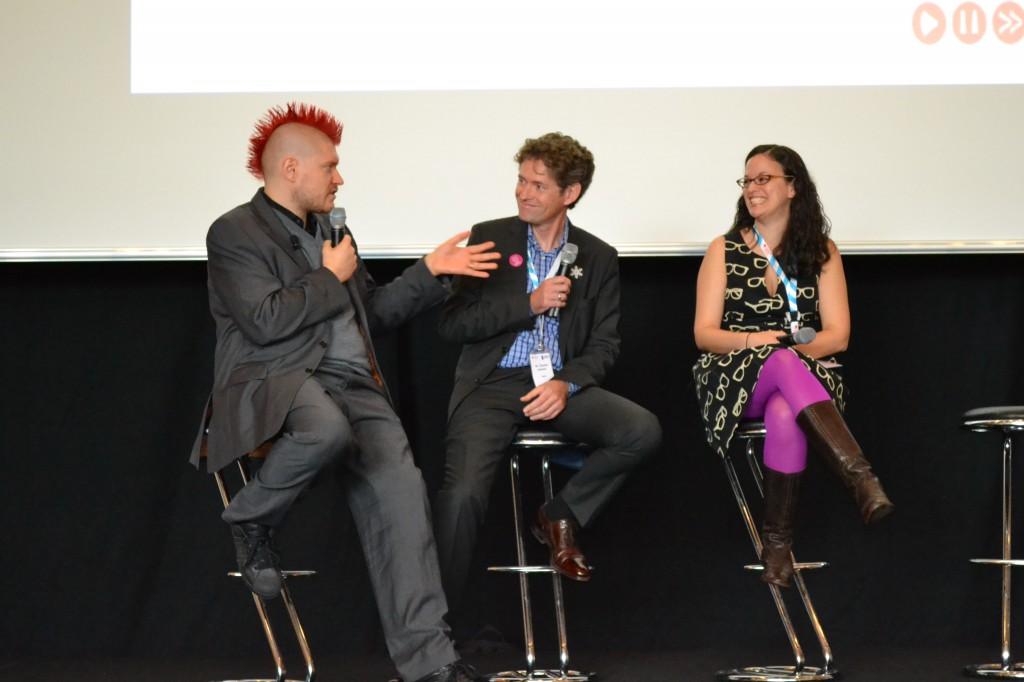 This morning's first breakout session at the Frankfurt Book Fair CONTEC conference was supposed to be the future of the book, led by several speakers who have innovated in social reading, online publishing and blogging, and more. But the conversation kept coming back around to what the future of the book store will look like, let alone what those book stores will sell.
Much of their debate focused on what role bookstores will play for consumers. Some argued that the physical bookstore is a place that serves that community, fosters authors' careers, and makes individualized recommendations to customers based on their previous purchases in the store; the argument, though, is that online communities are getting much better at doing those things more and more accurately.
"My local bookstore will deliver a book to your house by bicycle," stated Tumblr's Rachel Fershleiser on the importance of small book sellers.
"Amazon will deliver it to your house, too," countered Sascha Lobo.
Lobo, founder of tomorrow's launch Sobooks which focuses around the concept of social selling, did engage in a very interesting dialogue with Fershleiser on what the inherent value and definition of a book will be.
"One of the genres I'm least optimistic about is books like Photoshop for Dummies. If you're buying a book only because you need knowledge, there are free online ways to get that. Storytelling is going to remain valuable," explained Fershleiser.
"I totally disagree with that," countered Lobo. "A book in which the author can communicate with you and answer questions will be valuable."
"But what is the difference between an interactive ebook in which you communicate with the author, and an online course?"
"The price," said Lobo.
"Places that don't innovate or give readers what they want will close," said Fershleiser.
One of the arguments for small bookstores came from Dr. Torsten Casimir, Publishing Director for mvb, who raised the interesting point that when books are legislatively priced the same across the board, bookstores have to offer their customers more in terms of benefits in order to keep them. So is that even a viable options for saving bookstores? If all books were priced uniformly across sales channels, there would be no price fixing lawsuits and no Daily Deals. Stores would have to compete with each other for their customers' dollars through other offerings.
Mercy Pilkington is a Senior Editor for Good e-Reader. She is also the CEO and founder of a hybrid publishing and consulting company.