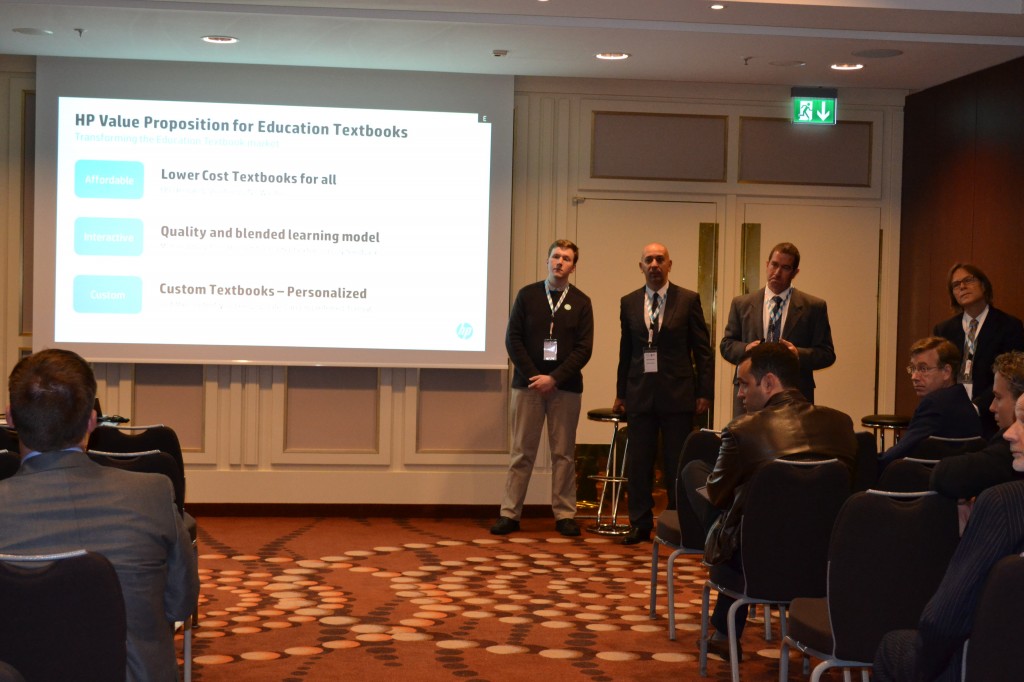 Today's CONTEC event, held in conjunction with the Frankfurt Book Fair, is all about innovation. The Startup Showcase showed us what is possible, while the metadata presentation showed us exactly what the industry knows about how books sell. If it can be related to digital understanding correlated to books, it's probably being discussed here today.
Two back-to-back panels on digital publishing in education have demonstrated the importance the topic is to the publishing industry, and some long-held beliefs about where digital textbooks should go were effectively dispelled.
First, a panel by HP demonstrated that print is not quite as dead as some critics would hope, at least in the area of education. Rather than going with either a straight-digital or a strict-print model for both higher education and public education, students want a combination of both. HP met that need with hot spot embedded within texts that allow users to access content from the material via their mobile device. This has the added benefit of providing value-added content such as videos, audio, and links, while still offering a print based text that so many students need. An additional benefit is the savings on printing and shipping from creating much thinner textbooks once a significant portion of the material is made mobile.
One of HP's more interesting points was in what they call a Blended Learning model, which aims to take the best parts of both print and digital material for the classroom and combine them into the most effective learning tool for a wide variety of students.
Next, long-time educational publisher Schilling presented a white paper on what educational publishers need to keep in mind about going digital. Rather than jumping on a bandwagon, publishers need to remember that "digitization has redefined books." It's not just a matter of tossing out paper and producing a digital version, but more about capitalizing on the capabilities of digital textbooks, such as better feedback on where learners have progressed.
Schilling highlighted some of the things that publishers need to keep in mind, such as content-based learning tools, the development of new technology for students, and the politics involved in both producing a textbook and in marketing or selling that book.
According to Schilling's survey, "The strategic positioning of publishers must take into consideration that successful publishers should be able to operate effectively in all four dimensions even if the main value creation comes from one single dimension."
Mercy Pilkington is a Senior Editor for Good e-Reader. She is also the CEO and founder of a hybrid publishing and consulting company.