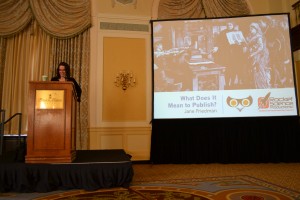 At this morning's keynote event from the 2014 PubSmartCon in Charleston, South Carolina, publishing industry professional Jane Friedman spoke on the roundabout definition of what it means to publish in the current climate. Examining it from its early roots, all the way through publishing via blogging, the session explored what authorship and readership have come to mean.
"It was the rise of literacy that allowed authors to make a living because it increased the market demand for books. But what's interesting to me in the current dynamic is how everyone is becoming an author through social media and other instant publishing tools, whether that's WordPress or KDP or Smashwords that allow you to control when, where, and how you distribute your words."
Friedman went on to explanation how the growth of universal literacy has led to the concept of universal authorship, in which anyone has the ability to amplify their reach through publishing.
"This greatly changes the environment that we're in, whether it's in trying to increase visibility, make money, or either one. The universal authorship trend has driven up the number of titles that get published…but this is not even beginning to capture the entire universe of content that's out there."
Friedman was, of course, referring to the number of titles–both traditionally and self-published–that are known to be published under an ISBN number, something that not all books have. These numbers are known to be much higher than her data was able to indicate.
"Publishing is a button that you can press and distribute your ideas instantly to a worldwide audience. It used to be more of a rarefied process, controlled by the so-called gatekeepers or by people who were professionals who had very specialized knowledge. That's not necessarily the case anymore, that calls into question, 'What does it mean to publish when anyone can do it?'"
Friedman's question has been asked by both supporters and critics of the current trends in publishing, but she portrays and industry where readers transform the social fabric surrounding the culture of books. But her more profound statement involved an understanding that Amazon is not an enemy of publishing, but the failure of publishers to sell to consumers and understand their readers in a more personal way is that enemy.
One suggestion Friedman carried for an industry that is struggling through the scarcity of attention for the abundance of content out there is to better understand the reader-book relationship and return attention to the readers. A number of trends she highlighted that are especially working for authors where they are is the mobilization of reading on smart devices, the return of serials through a wide variety of platforms, and the verticals of companies that are already making headway in the industry.
Mercy Pilkington is a Senior Editor for Good e-Reader. She is also the CEO and founder of a hybrid publishing and consulting company.