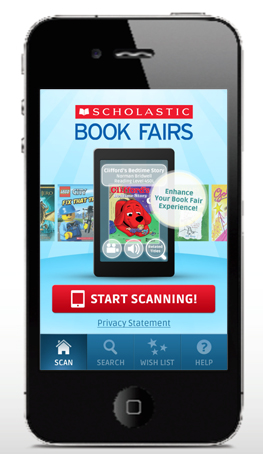 Many readers have fond memories of Scholastic Book Fair time when they were in school, getting the chance to browse new books and discover a new character, series, or author. But the world's largest publisher of children's books and content is bringing the book fair to mobile devices, thanks to its free app that lets young readers find out even more information about the books.
"We've been striving for a way to extend the book fair," explained Deborah Forte, President at Scholastic Media, Executive VP at Scholastic, Inc., in an interview with Good e-Reader, "and this is a great compliment to the physical experience. Society is mobile, and it's really great to be able to offer our customers a mobile extension of the book fair."
Through the app, parents and students can scan the cover of books that are available on site and learn more about the book, the author, get recommendations for other books that might be of interest, get important information about the reading level and Accelerated Reading status of the books, and more. The app also lets schools offer their students even more selection beyond the books that are physically displayed during the event.
One very helpful feature that this app can offer readers and their families is students who attend schools that are taking advantage of digital learning can scan the covers of titles they are interested in within the app, then share that information at home with their parents in order to make purchasing choices about books.
"The application is a great way to connect the physical with the digital," continued Forte, "and what we can do with this application is when a pair downloads the app it geolocates the fair and they simply press the location of their fair, and they go in and take the application and connects with the physical product in the fair. It offers far more information at the touch of a finger."
One of the best features of this app is to help parents and teachers grow a curated collection of content that is age- and grade level-appropriate, and it also lifts the limitations of the physical fair to let readers find more content through the online fair extension. This also affords the hosting schools to benefit from the online purchasing in order to add to their fundraising book event.
Scholastic's Storia ebook platform is also connected to the book fairs and the same information is provided through the app, allowing parents to choose the digital edition of books for their children during the excitement of the book fair.
"We really look at these fairs as a literacy event," explained Forte, "we really believe that strongly that this is a way to create a lot of excitement around reading, and it works. Getting kids and families excited about reading and books is what it does, but it does benefit the school as well. The primary focus is that they want the kids to read more, and this is one very effective way to motivate kids and to allow them to be a part of the process of selecting books. The research says that when kids have a role in selecting their own books, they tend to read more."