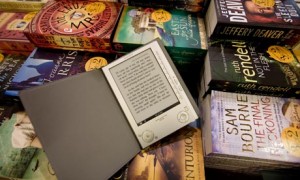 The wheels of justice do, indeed, turn slowly. Turtles stampeding through peanut butter kind of slowly. Because the end result of an investigation by the Department of Justice that first began back in 2010 has finally resulted in emails going out to customers informing them of the credits on their Amazon accounts. While I'm not sure that consumers are supposed to disclose the amount of their credits, let's just say that if I were able to wrangle six other customers who received a credit similar to mine, we could pool our money and share a small latte at Starbucks.
In the almost $300 million settlement that five of the then-Big Six had to pay, why is my sixth-of-a-latte settlement so small?
The lion's share of the damages in a class action suit go to the attorneys involved in the settlement, and around thirty-five states' attorneys general were involved in the investigation and allegations of price fixing. There were also a handful of class action suits brought about by independent law firms on behalf of consumers.
I bet all those guys each got to have their own lattes.
More importantly, though, the distribution of the remaining portion of the settlement–the part that actually trickled down to consumers–was actually based on spending activity. The more ebooks you bought from these publishers, the more reimbursement for overpaying you received. Big Foot porn wasn't a real genre back then, so I hadn't bought that many ebooks when this all went down.
According to the message from Amazon, "The credit results from legal settlements reached with publishers Hachette, HarperCollins, Simon & Schuster, Macmillan, and Penguin in antitrust lawsuits filed by State Attorneys General and Class Plaintiffs about the price of eBooks.
"You don't have to do anything to claim your credit, we have already added your credit to your Amazon account. We will automatically apply your available credit to your next purchase of a Kindle book or print book sold by Amazon.com, regardless of publisher. The credit applied to your purchase will appear in your order summary. If your account does not reflect this credit, please contact Amazon's customer service."