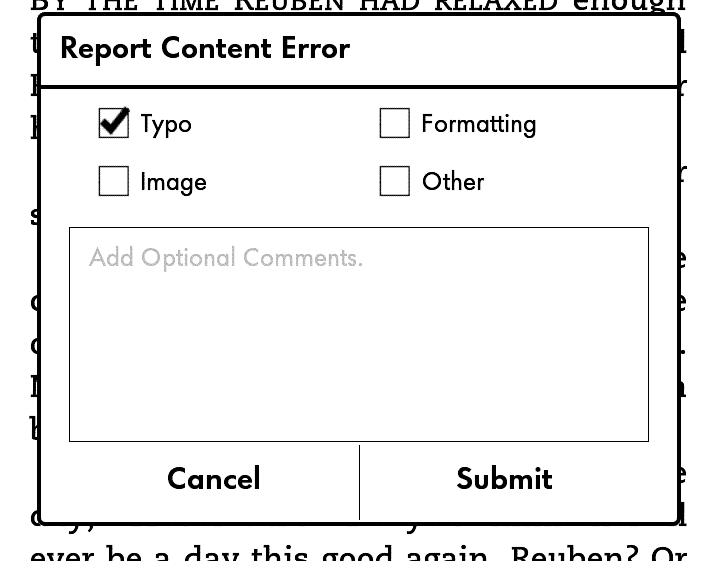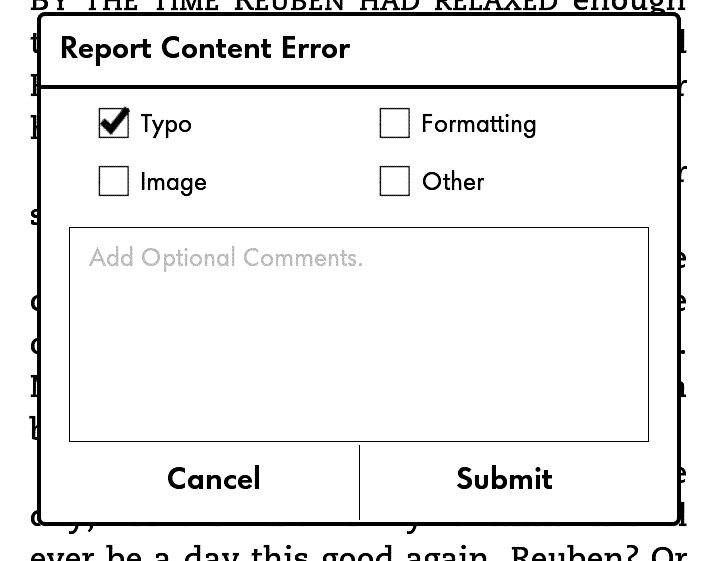 Major publishers collectively sold 250 million e-books in 2015 and a significant number of titles fail in the quality and control department. Some e-books have spelling mistakes and others have formatting issues. Unfortunately Amazon, Apple, Barnes and Noble, Kobo, and Google are not doing enough to empower users with the ability to report e-books who have content errors.
Amazon is the only e-reader company that allows users to report content errors in an e-book. The publisher, or self-publisher that submitted the title to the Kindle bookstore is automatically notified and can take steps to address the issues. If a publisher makes changes and resubmits their title, the new version is automatically updated. Sadly, this feature is only available on the Kindle Paperwhite or Kindle Voyage. It is not available on the companies Android or iOS apps, which means that the Fire Tablets have no way for readers to report errors.
Apple, Barnes and Noble, Kobo, and Google do not have a single option for users to report e-book formatting or spelling errors. All of these companies do not have a single help file that tells users how to get in contact with the publisher to report errors or offer an email address for readers to submit their own reports. It's like these companies don't care about improving e-books, they just want you to fork over your hard earned dollars for a book. If the book is basically unreadable, good luck trying to get a refund.
Doing proper quality control on an e-book is hard. If the average novel is 75,000 words and the average word is 5 characters then checking each book involves checking almost half a million individual characters to make sure they're correct both in their specific position and in the larger context. It's a time consuming, tedious process, and it's easy to miss things.
A user who wrote in to Good e-Reader outlined exactly how print and e-book copyright editing works in the publishing world "My fiance works as an proofreader for a publisher and does a mixture of print and electronic texts. Her responsibilities for print proofreading are what you would expect: reading the text and looking for errors. When she gets the manuscripts the big changes have all been made so she's looking mostly for grammar, spelling, and formatting within sentences."
He went on to say "E-book proofreading is completely different. The texts themselves are simply converted digital copies of the original print versions so the sentence-by-sentence proofreading that she does with pre-print editing is assumed to be unnecessary. For e-books she's supposed to make sure the links and page numbers all work and that the links themselves have no textual errors. Before she gets it someone goes through every page to ensure the paragraphs line up appropriately with the digital pages. To my knowledge, no one checks the text itself after the conversion."
In order to catch errors before the e-book officially go on sale, publishers sometimes lean on a small group of readers to report content errors (ARCS). Their hope is that a small number of people who have read the complete book for the purpose of doing a review, will report any content errors directly to the author, publisher or the website that the advanced reader copy was downloaded from.
Angry and Fed Up
Users are getting fed up with poor quality and control with e-books and are getting angry about not being able to report errors to anybody. Here are some of the most notable examples.
"I read Stephen King's The Dead Zone last night and it was riddled with typos and missing letters. I have most of King's library and this has been the worst regarding that issue. A common typo in his novels I've noticed is the word Corners turned into Comers."
"I read "The City and the Stars" by Arthur C. Clarke (Hamilton Books). They were selling it for only $2 on the iBooks store, but I wouldn't have bought it at all had I known how poor the quality would be. Incorrect spellings, missing words, no capitalisation, no paragraphs, chapters not starting on new pages (and sometimes at the end of the last sentence). I never really liked ebooks in the first place – I only buy them when they're cheap – but this has convinced me to ditch them for hard copies once and for all."
"I'm reading The Anubis Gates right now and running into a different but similar problem: section breaks. I guess when they OCR'd it or imported it the section breaks got dropped. So you'll have the scene change completely (characters and location) between two paragraphs. It's really jarring. Like, wait, this paragraph is about Romany, the last was about Doyle but they are in completely different parts of the city right now, WTF?"
"I bought Equal Rites on my Kobo. For some reason, the book is broken up weirdly; the first third of the book is normal, then it cuts to the last third of the book, followed by the middle."
E-Reader companies need to do more
Amazon, Barnes and Noble, Kobo and Tolino all sell e-readers, tablets and operate their own digital bookstores. Apple and Google both sell e-books, in addition to movies and television shows, its just something extra they do to make money, not a core business focus.
I think the e-reader industry needs to address content errors and and augment their apps so users can report the problems directly to the retailer and publisher. There is simply no excuse that B&N, Kobo and Apple do not offer ANY way to report e-book errors and this is simply inexusable in 2016.

Michael Kozlowski has been writing about audiobooks and e-readers for the past twelve years. His articles have been picked up by major and local news sources and websites such as the CBC, CNET, Engadget, Huffington Post and the New York Times. He Lives in Vancouver, British Columbia, Canada.