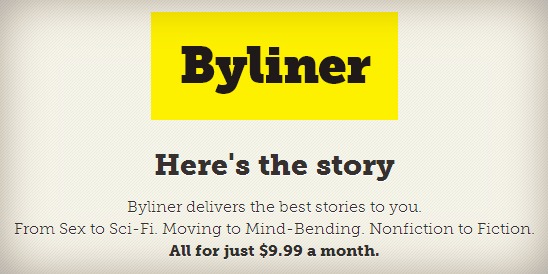 At publishing conferences and industry events, there are always a few common themes. Book discovery seems to be a constant thorn in rights holders' sides, as does understanding how to price content in the digital age. Libraries are still being left out in the cold, even as industry professionals offer keynotes about what the future of libraries will look like (interestingly, these keynotes are almost never delivered by actual librarians). And lest we forget the most important running theme of all: Amazon is bad.
With news coming out today that long-form journalism and fiction e-short site Byliner is floundering, it begs the question as to what needs to be done in digital publishing. Byliner is an industry pioneer who began selling ebooks in 2011 by capitalizing on readers' desires to know more than just what appeared in a 100-word blurb on Yahoo's homepage, while still acknowledging that readers didn't always have time to sit down with a full-length volume. Digital publishing made the speed-to-market incredibly fast, and just like other e-short platforms, Byliner was able to get quality non-fiction into the hands of busy readers with minimal delay, along with dedicated fiction works that were written expressly for snippet-like consumption from some of the top names in books.
So what went wrong?
In a publishing subset as specific as long-form journalism, we can't really blame the self-published authors for filling the market with a glut of badly written, poorly edited trash. Book discovery in this instance may not be an issue, since readers who want this type of work are often looking for specific content, if not by title, then possibly by topic. There are a number of platforms that offer this type of content, but they're certainly not as abundant as literary fiction or romance publishers. And since most platforms sold their content through Amazon, it's not even a matter of Amazon refusing to play nice, at least not according to any news coming out of the company.
Pricing may have been somewhat of an issue for consumers. When Byliner launched in 2011, subscription models had just emerged but weren't taking off, at least not in the way that they are today with companies like Oyster, Scribd, and Rooster. But even with Byliner's $5.99 a month a month price point–lower than both Oyster and Scribd–that price still only leads to a choice of 30,000 titles, all of which are billed as novella-length.
Whether or not it is standard for their titles, the website didn't seem to offer stand-alone sales; if this information is inaccurate, the site itself wasn't intuitive enough to clearly state that stand-alone sales were possible, which could have left potential readers with the impression that it was all or nothing. There were some enticing titles on the homepage today, but it looked as though the only way to access them was through subscribing. Retail platform searches for some of Byliner's titles turned up only a handful of options, and most of those were audiobooks.
In a more mundane complaint, the site is not easy to use. There is no scroll bar and the page down button on the keyboard won't work there. Access involves scrolling the mouse repeatedly in order to move the screen at dial-up speeds. Just in browsing the site for this article I wanted to leave and never come back, and I wasn't a potential reader trying to decide if the subscription was right for me.
Of course, there isn't much news coming out of the company at this time. An email to its authors used scary words like "struggled" and "working to find a good home for your stories," all of which foretold doom but didn't provide any insight into what went wrong or how to fix it.
Are Byliner's troubles just part of doing business in the industry? Possibly. Byliner's current situation may not be anything other than a sad result of doing business in the digital era, but it should serve as an attention getter for other platforms.
Mercy Pilkington is a Senior Editor for Good e-Reader. She is also the CEO and founder of a hybrid publishing and consulting company.