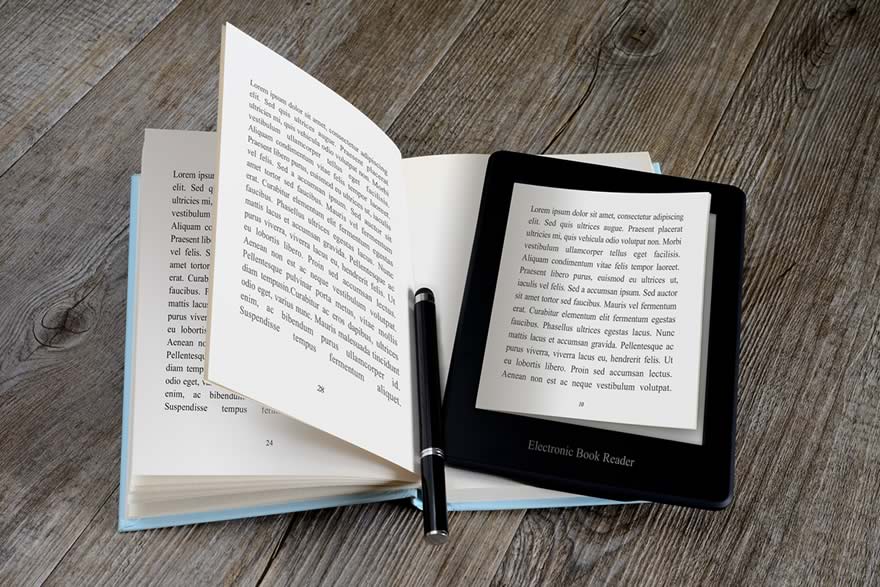 People's sense of psychological ownership is affected by three primary factors: whether they feel as if they have control over the object they own, whether they use the object to define who they are, and whether the object helps give them a sense of belonging in society. There no true ownership when it comes to ebooks, you merely lease them from an online retailer such as Amazon, Barnes and Noble or Kobo.
A recent study published in the journal Electronic Markets found that the vast majority of people felt a constricted sense of ownership of digital books versus physical books, based on the fact that they don't have full control over the products. For example, they expressed frustration that they often could not copy a digital file to multiple devices. Along similar lines, many study participants lamented restrictions on sharing ebooks with friends, or gifting or selling the books, saying this made ebooks feel less valuable as possessions than physical books.
The vast majority of ebooks from major online retailers have digital rights management from Adobe or have developed their own DRM solution. If you have an ebook from a major publisher on Amazon, it is incompatible with your Kobo or Nook. The only way you can circumvent this is to illegally strip the DRM from your book. Opting into DRM on the retail side is up to the individual publisher or self-publisher, so there are many ebooks on major platforms that sell books without any DRM. If loading books on as many devices as you want or giving them to friends is a big deal, you can start doing business with Humble Bundle, StoryBundle, Smashwords, Weightless Books, Wattpad or DriveThruFiction.
Over the course of the past five years electronic books have been in a state of decline. Print is enjoying a healthy resurgence and this might be due to people being more emotionally attached to physical books. The study said that people use physical books to establish a sense of self and belonging. Participants across age groups frequently spoke about their nostalgia for certain childhood books. They also talked about experiencing physical books through multiple senses — describing, for example, the sound, smell and tactile experience of opening a new book, and the ability to highlight or write notes on paper pages. Participants also said they use their physical book collections to express their identity to others who might be perusing their shelves. Ebooks did not have these associations.
Sabrina Helm, a UA associate professor who researches consumer perceptions and behaviors. said "One of the conclusions of our research was that digital books and physical books are entirely different products," she said. "ebooks feel like more of a service experience; overall, they seem to offer a more functional or utilitarian experience. You have much more richness if you deal with a physical book, where all your senses are involved.
"Physical books are very special products, and we know that physical books have a lot of meaning for a lot of people," Helm continued, noting that books are one of the earliest objects with which children interact. "Digital reading is still fairly new, digital books are still a fairly new product category, and thinking about ownership in the context of these kinds of products is new for most people."
"A lot of participants pointed out that they see digital books as too expensive for what they deliver, because they don't offer the same richness as a physical book; you read them and nothing is left," Helm said. "If we position digital reading in a different way — as an independent service experience — consumers might be willing to pay a higher price if there's an obvious added value. If it's different from a physical book, they won't compare it to the physical book anymore, because it's an entirely different form of entertainment."
Wrap up
There is serious psychological ramifications of buying ebooks. There is no true sense of ownership and if you violate any of the terms of service for any online retailer they can shut off your account and you will lose access to all of your purchases. Many digital bookstores have gone out of business over the years, such as the Sony Reader Store, Diesel EBooks, Blinkbox Books, Flipkart and dozens of others. If you did business with any of these companies you basically lost access to everything. It is really distressing to invest in a ebook ecosystem and all of a sudden they go out of business.
Books have true ownership, you can do whatever you want with a book. Not only do traditional bookstores thrive in all corners of the world, but a healthy used book market does too. Books are given away for free in those cute little community lending libraries, can be accessed via the public library or traded with friends.
Michael Kozlowski has been writing about audiobooks and e-readers for the past twelve years. His articles have been picked up by major and local news sources and websites such as the CBC, CNET, Engadget, Huffington Post and the New York Times. He Lives in Vancouver, British Columbia, Canada.