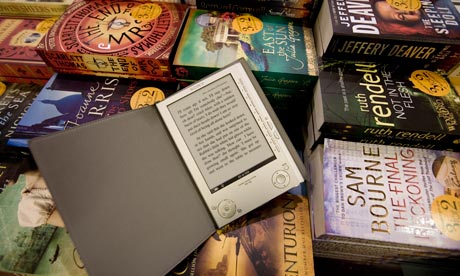 When ebooks first appeared on the literary scene in a big way, critics and supporters alike had some pretty bold predictions. From the "death of print" side came support for the worldwide benefits of digital reading, while the "flash in the pan" crowd refused to let go of their paper editions and that "new book smell." There was even a solid middle ground as parents–even those who'd adopted ebooks in a major way for themselves–still wanted their children to experience the love of reading that came from curling up with a good (print) book.
Once the craze settled down some, industry experts were certain we'd reached a happy medium, where both sides of the debate could see the merits for both formats. It seemed as though print and digital would happily exist side-by-side, despite controversies such as the Apple ebook price fixing suit, and the more recent Amazon-Hachette/Simon&Schuster/Macmillan pricing disputes.
Now, according to a report in Time, not only are ebook sales down while print sales continue to rise, e-readers sales are in a slump as well. Some outlets, like UK bookstore chain Waterstones, have reported that sales of Kindle e-readers have stopped almost entirely.
"The rapid growth of ebook sales has quite dramatically slowed and there is some evidence it has gone into reverse," said Douglas McCabe of Enders Analysis in an interview with Time.
Of course, this news hasn't stopped authors, particularly the authors who are continuing to self-publish, and the ones who are continuing to thrive in a once-again uncertain industry. Predictions from industry experts like Mark Coker have stated that the number of indie authors may decrease, but that the quality of content and business activity of the remaining authors will increase.
[ad#After Post]
Mercy Pilkington is a Senior Editor for Good e-Reader. She is also the CEO and founder of a hybrid publishing and consulting company.