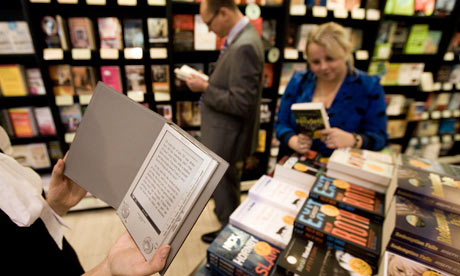 Publishers are at a crossroads when it comes to digitizing their books and marketing them through various sales channels. There is no shortage of companies out there begging for business and passing themselves off as a one stop shop for eBook creation services.   What are the current best practices for developing an eBook creation pipeline? Is it better to develop your own technologies and create everything in-house, or to outsource it to a third party?
It is very important to understand the current landscape of eBook production to evaluate what process works best for your company. In order to make this a bit easy to understand, major publishers led a session at the IDPF Digital Book 2013 conference in New York to talk about this very issue. An informal survey was conducted, whose respondents included start-ups, existing publishers, and industry experts, which should give us a sense on what the current best practices are.
Approximately 41% of the responding publishers primarily outsource their eBook production to skilled services providers. However, with 45% of respondents reporting that that their business had moved from one that fully outsourced eBook production, a major trend in digital production strategies appears to be the move towards greater internal production of eBooks. That echoes the approach currently adopted by Open Road Integrated Media. Said Nicole Passage, Managing Editor of Open Road, "Prior to the past year, we outsourced almost all eBook conversion, but recently we've begun to adopt internal solutions, allowing us to increase both efficiency and control over results."
Internal production seems to be the one major facet that is quite new to the publishing industry and there a number of major concerns when developing a framework. Those include cost, quality, and technical requirements. Creating an in-house system for digitizing eBooks is not for everyone and can be prohibitively expensive. Seventy percent of the publishers surveyed said that the costs associated with internal production capabilities, including personnel resources and production tools, were too expensive.
Outsourcing eBook development seems to be a major trend right now in the industry, but may not be a viable long-term solution. Forty percent of the publishers surveyed said they did not even know what tools their outsourcing  counterparts employed to create digital books. Relying on a third party may bring down the costs, but it comes at the expense of having no idea what they are doing or tools they are using. This creates a reliance on dealing with a company and losing creative control over the process.
The publishers who have developed the most compelling internal digital platforms often started with outsourcing their materials, and gained an understanding of the processes involved. This allowed them to gain the technical knowledge to develop their own internal solutions and most were quite happy to have walked down both roads. Of those respondents who had moved to full or significant production in-house, all previously having outsourced such work, 100% stated that they were able to achieve greater efficiencies and net benefits by producing internally than they had seen from outsourcing, even factoring additional personnel overhead.
The entire publishing industry is trying to figure out what platform works best for them. It is easier to outsource the workload to a company that specializes in eBook creation, but doing it all in-house is not as hard as some companies may think. Ingram Lightning Source has a number of fairly compelling tools that allow companies to publish and optimize eBooks. There are a number of free programs like Calibre that provide a tremendous amount of freedom to simply upload a Microsoft Word document and utilize advanced settings to optimize it for both Kindle and EPUB.
Major publishers all see 24% of their global revenue stem from eBooks, and this number should increase during the next few years. Having more control over print and digital content is something that everyone really wants.
via Publishing Perspectives

Michael Kozlowski has been writing about audiobooks and e-readers for the past twelve years. His articles have been picked up by major and local news sources and websites such as the CBC, CNET, Engadget, Huffington Post and the New York Times. He Lives in Vancouver, British Columbia, Canada.