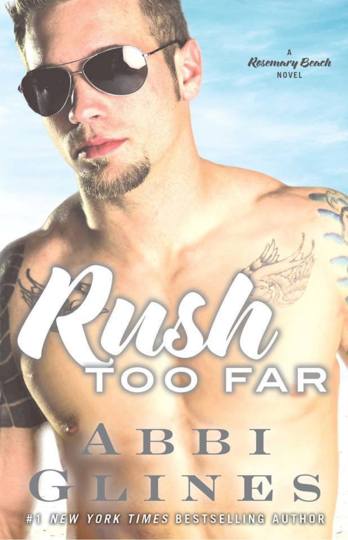 Verdict: 4 Stars
A bold, new phenomenon has taken place in publishing, arguably started by the indie authors who maintained strict control over their works and were free to publish as they chose, but also taken up by the romance genre within the traditional industry due to an abundance of readers who clamor for new content. This phenomenon covers the ability to rewrite editions, switch points of view on a previously published story, draft an alternate ending, and more.
One of the more prolific romance authors to offer up alternate view points for her storylines and casts of characters is Abbi Glines, whose Rosemary Beach novels are published by Atria (Simon&Schuster). For many of her novels, often told from the female lead's viewpoint, Glines returns to the steamy scene of the crime and republishes the male lead's novel as well.
Such is the case for the book Rush Too Far, which tells the story of Blaire Wynn and Rush Finlay from Rush's point of view. I have to say that books like this are actually tricky. There's a fine line that has to be balanced in several directions. It can't be so filled with obscure references to a previous book that new readers are lost, and it can't be so overexaggerated that long-time fans feel the repetition. That's coupled with the interesting dynamic that various characters in the book each have their own series from Glines, so at times I felt lost and overwhelmed with trying to keep the characters straight. It was tough to figure out who was related to whom and where they fit into the story.
Overall, it was really reaching for this to be anything close to plausible, but that's part of the fun of romance. It keeps things in the realm of fantasy when the reality of relationships can be far less storybook-worthy. Rush Too Far is available today.
Mercy Pilkington is a Senior Editor for Good e-Reader. She is also the CEO and founder of a hybrid publishing and consulting company.