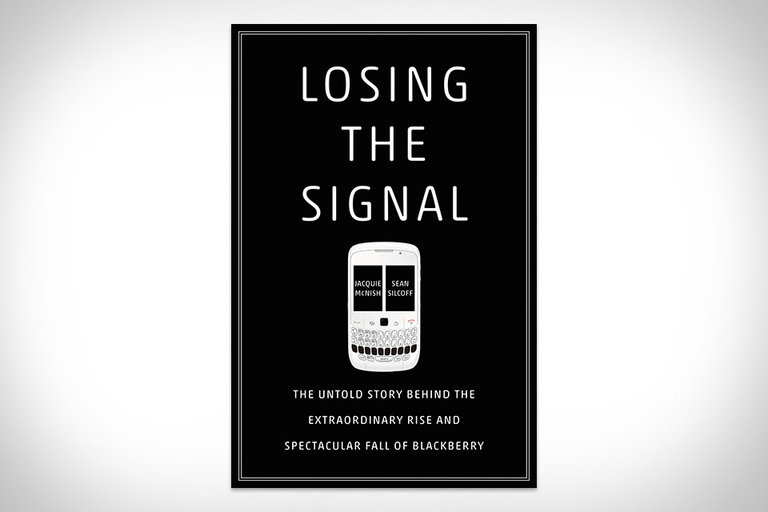 Losing the Signal – The Spectacular Rise and Fall of BlackBerry came out on Tuesday and this was a book I eagerly anticipating. It tells the tale of engineer Mike Lazaridis and businessman Jim Balsillie from their early years in highschool to the formation of RIM, whose first office was above a bagel shop.
This book was written by Jacquie McNish and Sean Silcoff. They are staff reporters at the Globe and Mail and have been following Blackberry since the very beginning. They got direct access to the two former CEO's who haven't done anything in the media since they left the company. Do you know why they left? It primarily had to do with the failings of the Blackberry Storm, post-dating shares to get maximum value and the ensuing legal drama. Getting sued by NXP over wireless patents also drove Balsillie to be a manic depressant.
Speaking of Balsillie, he revered The Art of War as a kind of spiritual guidebook for a small Ontarian company facing ruthless global competitors. "It is not a friendly world out there," says Balsillie. Sun Tzu,taught him that "you can't panic. You have to stay focused. You go into a state. Emotionally you become formidable. You go into a warrior state."
What I found especially compelling were the early years of Research and Motion and how US Robotics and other companies tried to withhold paying for orders to financially hurt the company. Another interesting fact was that Blackberry has a brand grew fairly organically. Businessman would be glued to their device during meetings and people asked what it was. It grew exponentially from there. When RIM first taking online orders, their first customer was Michael Dell, of Dell Computers.
You get a strong sense from reading this book on how telecom carriers were totally unprepared for the data revolution. Canada, the US and UK were all using EDGE and 2G data connections when RIM first starting releasing phones. They actually told them that their internet browser had to be very bones because their networks could not handle the amount of data. Vodaphone and others actually bucked about paying Blackberry the service fee for each phone sold, because Blackberry had their own servers to handle pushed email. Things all changed with the advent of the iPhone, and carriers started investing billions in expanded networks. RIM was caught off guard by the iPhone and was pressured by Verizon into releasing the Blackberry Storm, a critical flop.
Losing the Signal is not a cultural analysis of BlackBerry's effect on the ways we think or behave. Instead it primarily delivers a thorough account of the business maneuverings that allowed a small Canadian company to become a global player. This book is the first truly comprehensive account of the history of Blackberry and a very solid read. Likely the best book I have read since The Everything Store: Jeff Bezos and the Age of Amazon by Brad Stone.

Michael Kozlowski is the Editor in Chief of Good e-Reader. He has been writing about audiobooks and e-readers for the past ten years. His articles have been picked up by major and local news sources and websites such as the CBC, CNET, Engadget, Huffington Post and the New York Times.