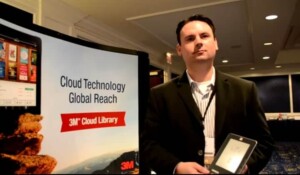 GoodeReader reported this week on the announcement of new features from 3M Cloud Library Systems and Polaris. This venture is aimed at streamlining the work of public libraries for greater efficiency and ease of use for both the librarians and their readers. I an interview with 3M's Matt Tempelis, GoodeReader learned about the need for a more efficient system to enable all parties involved to meet the needs of libraries.
One of the components the two companies have partnered on is the SelfCheck, which as the name implies, cuts the wait time for patrons to borrow materials. On the opposite end of the process, Automated Materials Handling, or AMH, means far less work for librarians in putting returned items back on the shelves for the next patron, especially following a long weekend when large stacks of returned items sit idly awaiting their placement.
"Our core side of the business is about self-service for the libraries and helping them to do their jobs better," said Tempelis, "elevating their duties and cutting a lot of manual labor. It helps us as a service vendor to dig into areas of need to come up with solutions that help the libraries. We're looking at the whole solution level for deeper integration."
While the partnership with Polaris already helps users browse and discover digital materials more efficiently across a variety of platforms, 3M's other focus is to make libraries an even more optimized experience for users. At a time when funding for libraries comes under attack and patrons are frustrated with the current state of ebook lending, libraries need all of the support they can get in order to keep up with an evolving marketplace of books.
"It's exciting for librarians because the closer these tools can work together, the better the performance will be for the library. I hope as we look towards Q4 there will be some different things to talk about and to show at Winter ALA that the market hasn't thought about."

Mercy Pilkington is a Senior Editor for Good e-Reader. She is also the CEO and founder of a hybrid publishing and consulting company.