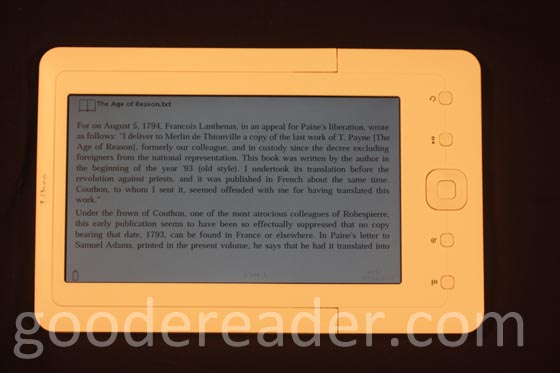 Welcome to another Good e-Reader Review! Today we take a look at one of the newest ebook reader offerings by Aluratek, the Libre Color.
Hardware
The Aluratek Libre Color features 7 inch Color TFT active matrix display with a resolution of 480×800 pixels. The display itself is vibrant and the colors tend to pop out when the brightness setting is turned up to the maximum.
You have around 2 GB of internal memory to store all of your videos, pictures, and ebooks. If this is not enough, you can further enhance it via the SD card up to 32 GB.
One of the great aspects of the device is that it features a rear facing speaker and you can balance the audio with some equalizer presets. If you want to keep things quiet you can plug your headphones into the 3.5 mm headphone jack.
The Aluratek Libre comes with a Mini USB to USB cable to facilitate a data connection with your computer. This is important to transfer ebooks you have purchased from other stores to your device. This USB cable is also used in conjunction with the charger that comes with it to power your unit. One of the drawbacks of this e-reader is that the battery indicicator is pure white and it's hard to gauge exactly how much battery life you have left. Speaking of battery life, you can get a solid 8 hours of it before you have to recharge.
The build quality of the e-reader is not as solid as I would have liked. It seems to be comprised of a hardened plastic that draws parallels to the Ectaco line of ebook readers. There are built in page turn buttons on either side of the device. Many e-readers have both the forward and back page turn keys above and below each other. This unit has the page turn forward on the right hand side and the back button on the left hand side. It also has a D-PAD in order to select menus and options, with a center button that functions as your enter key.
Finally, the Aluratek Libre Color switches orientation from landscape to portrait mode in a full 360 degree orientation. This is useful when you are reading books, watching videos, or looking at pictures. You can even lock the orientation when you want to make sure you don't accidentally move the unit into a different position.
Software
The Libre Color runs a Linux based operating system and is more or less closed, so it ruins the fun of trying to root the device. For an entry level e-reader this unit is brimming with many options and features. It has a video, music, and dedicated ebook reading application. One of the most exciting features is the wide array of formats that it reads.
Let's talk about the e-book reading experience, since we at Good e-Reader do love our books. The unit reads PDF, EPUB, TXT, and FB2. It also features the capability of being compatible with Adobe Digital Editions. This is important because the e-reader cannot shop for books on the unit and you need your PC in order to purchase books and then transfer them to your unit.
The eBook reading experience with the Libre Color was very solid compared to its other recent e-reader, the Aluratek Libre Air. This gadget has all sorts of ways you can edit your reading experience. You have around 6 different levels of magnification to make the fonts larger and smaller. You can also change the color of the fonts and the background color. There are no advanced options, though, that allow you to change the margins, line spacing, or fonts. One aspect I liked was in the ebook library it tells you the formats of the books you have in a neat and orderly fashion.
The Video player is the most advanced aspect of the Libre Color and it supports a multitude of formats that are sure to impress even the most jaded. It can easily read MPEG-1, MPEG-2, MPEG 4(Xvid), Divx, H.263, H.264, RM/RMVB, WMV7/9, MKV, MOV, VOB, and FLV formats. You can change the video to play in fullscreen mode and video looks solid. Naturally, it also supports landscape and portrait mode.
The last major aspect of the ebook reader is the audio player. It may not support as wide an array of formats, but you should be able to get by. You can import MP3, WMA, AAC, WAV, and OGG formats, and it even displays the cover art of the albums you listen to. One feature I enjoyed was the equalizer, which is lacking in most e-readers that have audio functionality. It has over 6 different presets which will help with both audiobooks and music.
Finally as far as software goes you can view pictures in JPG, BMP, GIF, and PNG formats, and create your own slideshows. So it can even function as a digital photo-frame if you can somehow get it standing up correctly. It also has a File Explorer that allows you to navigate all of the contents on your reader.
Our Thoughts
This device provides plenty of bang for your dollar in the respects that it easily does music, videos, pictures, and ebooks. It lacks the advanced functions that most e-readers on this price point enjoy, but it does provide a full color experience.
Some of the things I liked was the sheer amount of formats it supports, which means I do not have to spend time converting content from one format to another. The e-reader is also fast and does not lag very much. Programs open and close quickly and I never have to wait long for pages to turn. It also does kids books! Being a full color e-reader means that full color books look really great.
There are a number of drawbacks with the Libre Color that I found may be deal breakers. First of all there is no way to purchase content on the device. It does not have WIFI and the box it comes in is plastered with Kobo logos, giving you an indication that the company is providing you with the content. In reality they are just giving you the ebooks that come with the device. There is also no internet browser, which means you cannot surf the internet or do anything online. Partly the absence of internet connectivity helps bring down the price to the end user and keeps Aluratek competitive in an increasingly saturated market.
In the end, this e-reader is for the intermediate or advanced user. Many new users may not know how to shop for ebooks on the PC and then transfer them to their ebook reader. It makes the entire process of buying ebooks a little bit more trouble than its worth. Aluratek does deserve some credit, though, they do package the reader with instructions on how to shop for books online and then transfer them to the device. It would have gone a long way to film video tutorials documenting the entire process. Speaking of video tutorials we have our own tutorials on how to load ebooks onto the Libre Color, so make sure you check out our YOUTUBE Channel.
Rating: 6.5/10
[cincopa AIEAar66g1OS]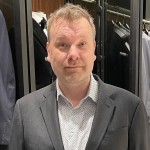 Michael Kozlowski has written about audiobooks and e-readers for the past twelve years. Newspapers and websites such as the CBC, CNET, Engadget, Huffington Post and the New York Times have picked up his articles. He Lives in Vancouver, British Columbia, Canada.