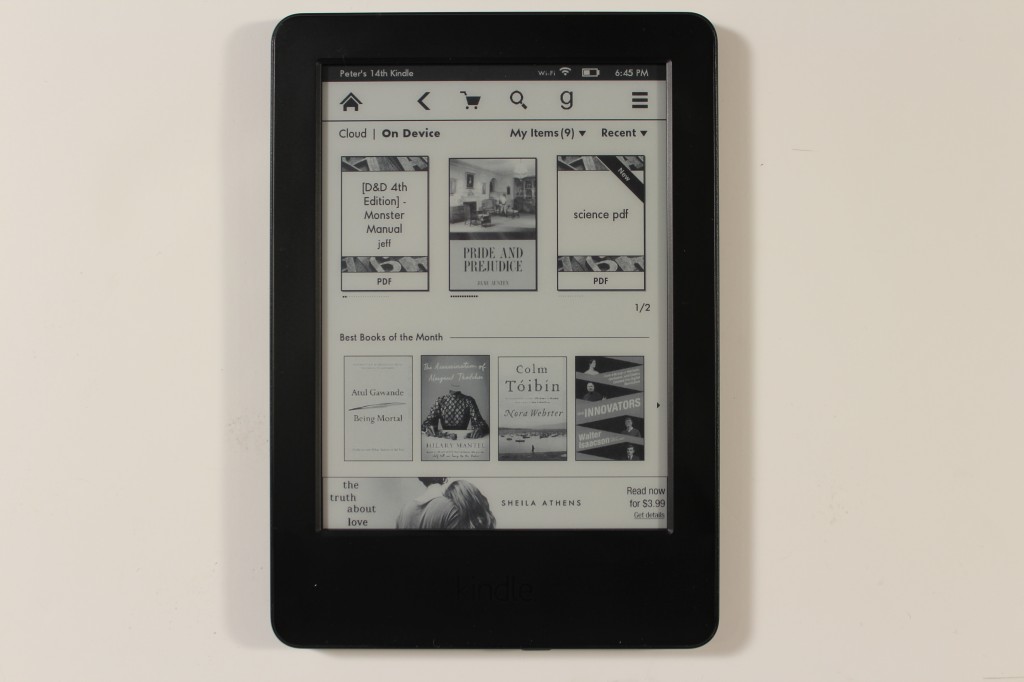 The Kindle Basic for the first time ever has a new touchscreen, all prior models had a D-Pad and physical page turn keys. Customers switching over to the new Kindle from a smartphone or a tablet will find it an easy adjustment. Today, we take a comprehensive look at the e-reading and overall hardware experience to give you a sense on how it performs.
Hardware
The Kindle Basic features a six inch touchscreen with a resolution of 800 x 600 at 167 ppi. The touchscreen technology is using Infrared, courtesy of Neonode. The fonts and overall screen clarity have been dramatically increased and in a head to head comparison with the Kindle Paperwhite 2, the Kindle Basic had a whiter background and crisper fonts, which was very surprising.
Underneath the hood is a 1 GHZ Freescale processor and 512 MB of RAM. Amazon has doubled up the amount of internal memory from 2 GB on prior models of the basic model to 4 GB. This in effect gives you the ability to store more books and PDF files on your device, without having to run in there and free up space.
Amazon has gone more angular with the Basic touchscreen Kindle, but surprisingly, despite its abandonment of physical controls, the gadget is actually heavier than its predecessor, and slightly larger in both horizontal and vertical dimensions. The case is made from a hard plastic, instead of hard rubber. This makes it feel less premium, but at $79 for the entry level cost, I am not complaining.
I am a big fan of the new direction that Amazon has took with the Kindle Basic. Now that this model has replaced the prior generation, Amazon currently does not offer any other e-readers that don't have a touchscreen, which should make it more accessible for the average reader.
Software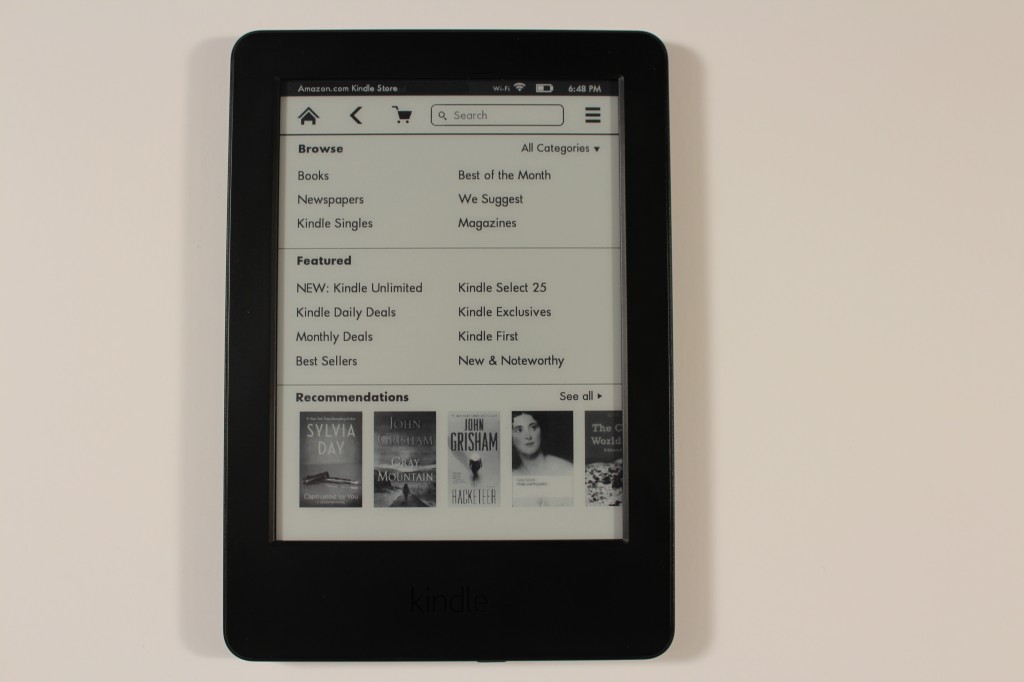 This new model has the exact same firmware as the Kindle Paperwhite 2, and mirrors it in all respects. You have the ability to directly access over two million books via the Kindle bookstore. I like the fact that the e-reader version of the store looks the same as the website, so there is no weird adjustment you have to undertake. GoodReads also plays a prominent role on the main UI, which is the social eBook discovery website they purchased.
Reading on a digital reader and buying books online is normally a solitary experience. Unlike visiting a real bookstore, that is populated by staff that love books and customers all there for the same reason, e-readers make you feel alone. GoodReads gives you access to virtual book clubs and provides a layered social element, which is refreshing.
Amazon provides a number of options in their sub-menu system that are not overly complicated to the average user. Some of the most notable ones is Kindle Freetime, which allows parents to establish a permission based system and account management to let little Johnny to read, but maybe not access the store or internet browser. Speaking of internet, the "Experimental Browser" is still in beta, almost a seven years since it was first unveiled.
The Kindle software feels really polished, you will seldom have to wait a few seconds for a menu to open or for a process to launch. This is really refreshing because I remember only a few years ago where I frequently had to put up with full page refreshes that took ten seconds and clunky interfaces that were counter intuitive.
If you have used a Kindle over the course of the last few years, Amazon really hasn't done anything new with the software, but has promised future firmware updates. One of the updates will allow you to find out more about an author, if the book is apart of a series and what the other titles are and allow you to get discounts on purchasing them all at once.
eBook Reading Experience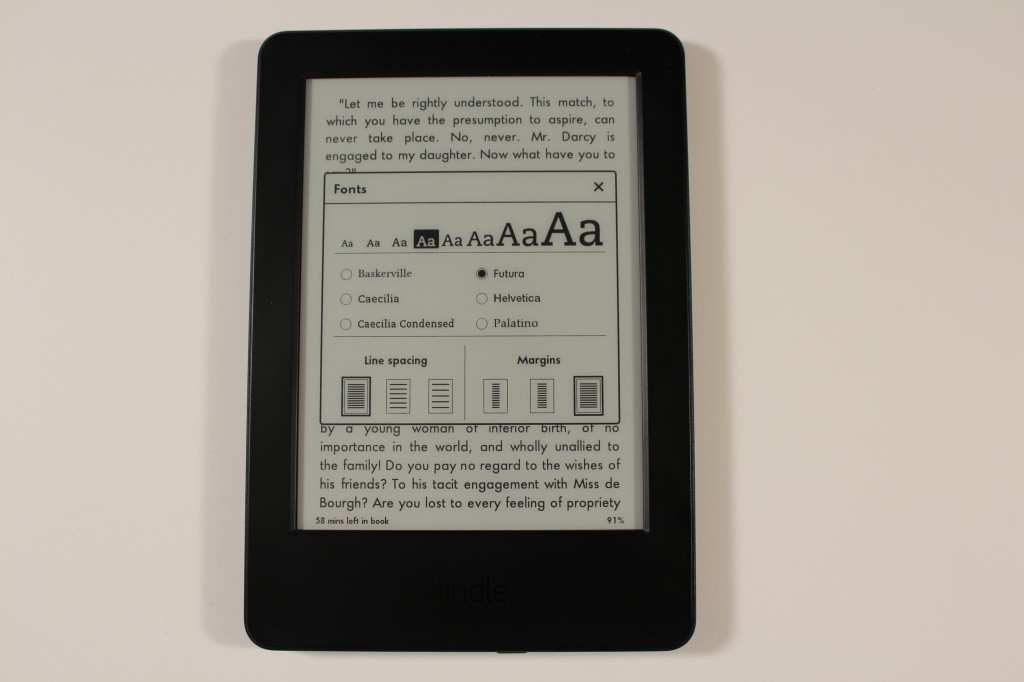 The one thing that really surprised me on the overall reading experience was being able to pinch and zoom while reading PDF files. The Kobo Aura H20, which costs $199 does not have this ability. Instead, you have a really clunky interface that takes 4 steps to isolate a particular region in a document.
The Kindle Basic handles pinching and zooming like a boss. Its more responsive than the Kindle Paperwhite 2 in this regard. When exploring a complex document a small preview window appears on the top left hand corner, which contains a snapshot of the page you are on. This helps orient you on where exactly you are on the page.
The other aspect that I really liked was the ability to take notes, make highlights and translate words in a PDF document. When you really think about it, a PDF is basically one giant image. Amazon is the only company that lets you augment text or give you advanced options to really craft a solid PDF experience. The only company to to do it better is Sony, and that is via the Digital Paper, which is PDF focused and costs $999.
The average user will find themselves reading books they just purchased from Amazon. This is where the reader really shines, there are a number of options to really refine the look and feel of a book, but doesn't have a ton of complex options. You can change the size of the font and whatever one you select instantly appears on the screen, without the need of existing the reading menu and saving the options. You can also change the linespacing and margins. Page turn speed has been dramatically increased over prior models, you will likely never notice a full page refresh and the entire process is lightning quick.
In many cases, you might be reading a book and not understand a specific word. There are two built in dictionaries issued to customers living in North America. If you live in Japan or China, for the first time ever the Kindle Basic is being marketed there and has those countries respected dictionaries bundled on it.
Another feature I like is translations. This works in both Amazon purchased books and PDF files. You can select a specific word or complete body of text and translate it from one language to another. Any market that Amazon officially supports is available. Currently there are 15 languages from Simplified Chinese to French. This might be useful to someone who is learning a new language, or if a particular book has a number of idioms.
Wrap up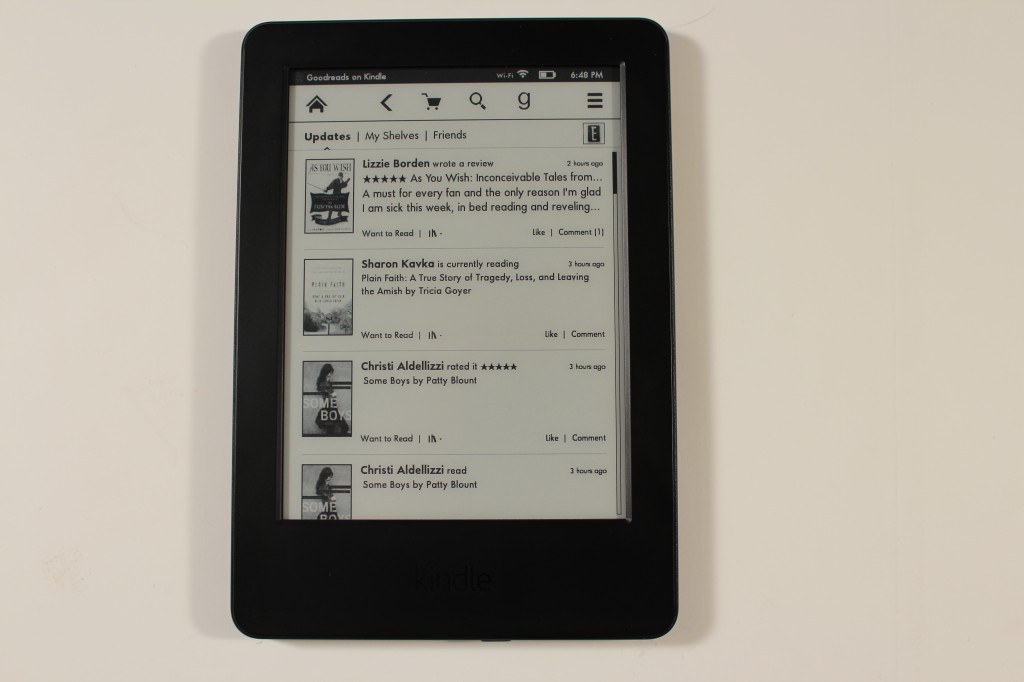 In the end, this is one of the best entry level e-readers ever made. It has cool features like X-Ray, so if you are juggling many different books at once, you can get a sense of the major characters, places and things referenced in the book.
This $79 entry level e-reader is perfect for someone who has never had one before or are thinking of giving the Amazon ecosystem a try. Owners of the D-Pad enabled Basic model from years past, will find this edition is a very solid upgrade and well worth the money.
PROS
Touchscreen
4 GB of internal storage
Pinch and Zoom PDF Files
Page Turns are lightning quick
Same Firmware as Kindle Paperwhite 2
CONS
Battery Life is weaker than the prior Kindle Basic
e-Reader is heavier than prior versions
Internet Browser prone to crashing
Rating: 9/10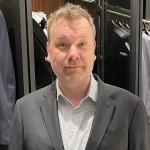 Michael Kozlowski has written about audiobooks and e-readers for the past twelve years. Newspapers and websites such as the CBC, CNET, Engadget, Huffington Post and the New York Times have picked up his articles. He Lives in Vancouver, British Columbia, Canada.