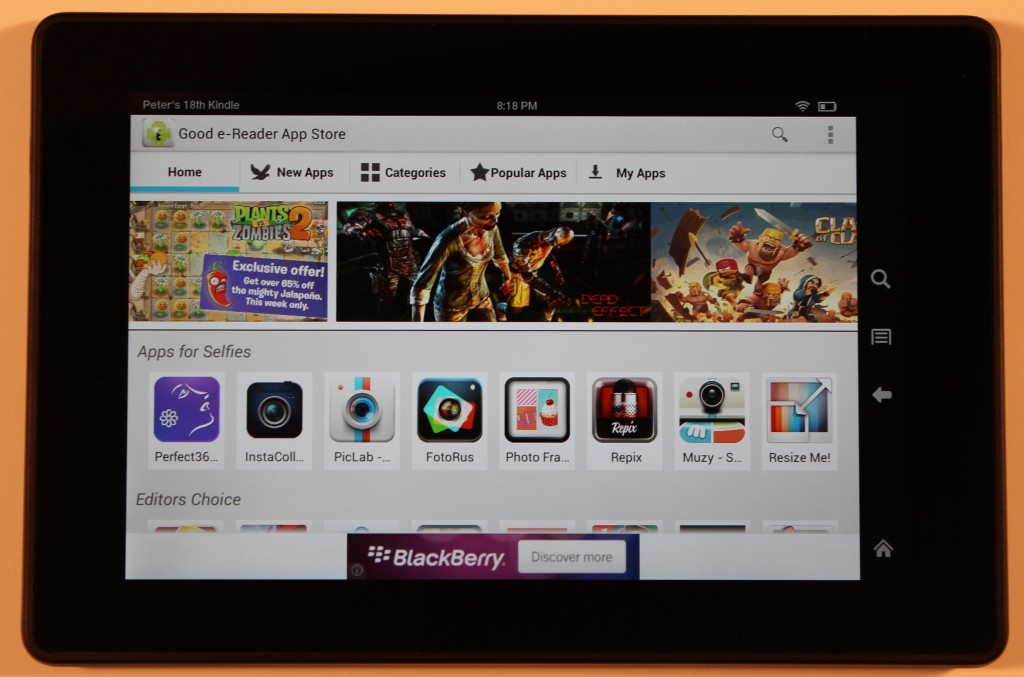 The Amazon Kindle Fire HD 2013 does not pack quite the punch in terms of hardware that the HDX line brings to the table, but is quite respectable all things considered. It lacks a front facing camera so you won't be able to capitalize on Mayday to assist in troubleshooting any prospective issues, but the price is right at $139. How does this new e-reading tablet stack up against the competition and is it a solid buy with all of the new devices coming out this time of year?
Hardware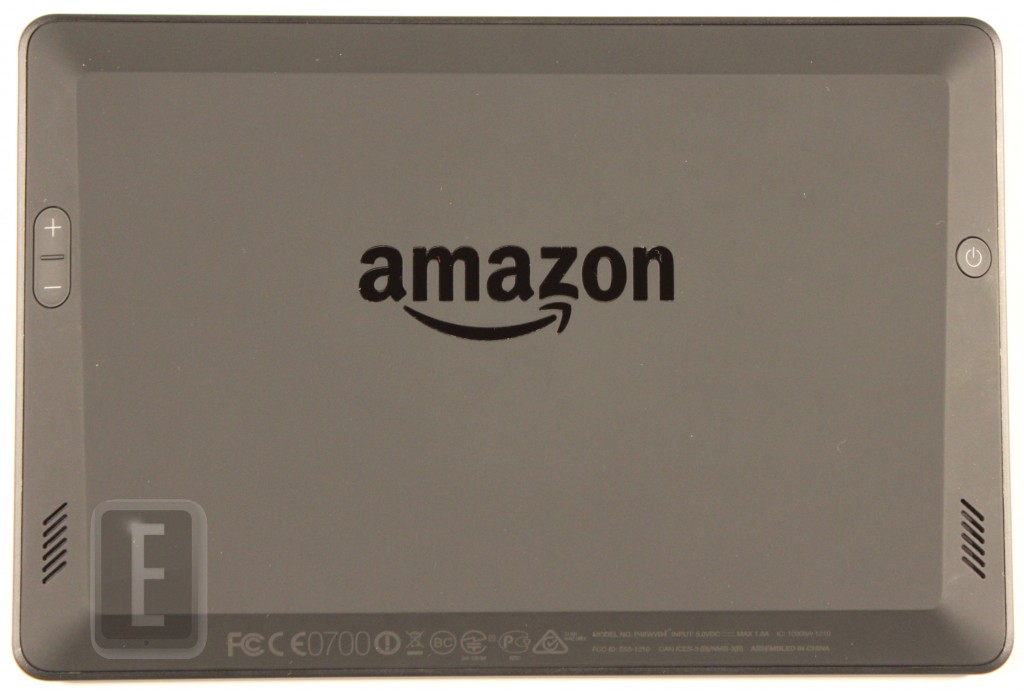 The Amazon Kindle Fire HD 2013 edition features a 7 inch touchscreen with a resolution of 1280×800 pixels. This is the exact same resolution as the 2012 Fire HD tablet brought to the table, but pales in comparison to the 1920×1200 that the seven inch HDX maintains. Still, compared to most entry level tablets the Kindle Fire HD 2013 model is quite respectable and most content purchased from Amazon shines. This is partly attributed to magazines, comics and graphic novels being down scaled to look just as good on this model as the more costlier versions.
Underneath the hood is a dual core 1.5 GHZ processor and 1 GB of RAM. There is only 8 GB of internal memory, but when you take it out of the box for the first time there is only 5.1 GB free. If you want more memory you can opt into the 16 GB model, but it costs $169 for the privilege.
The sound is quite respectable with the duel stereo speakers with Dolby Surround Sound. When we compared this unit with the 2013 edition of the Kindle Fire HD, it actually sounds a bit quieter. Not by a huge degree mind you, but it is noticeable.
As stated earlier in the review there is on front facing camera which helps drives the cost down. Amazon is competing with Kobo, Barnes and Noble, and Google for entry level tablets and is trying very hard to offer a compelling enough product to get more people to buy it. The lack of a camera prevents users from taking advantage of Mayday, which is a heavily hyped feature that lets a dedicated Amazon rep talk to you via web-cam. This was chiefly designed to assist new tablet owners with a multitude of problems. Oh yes, you also lost the HDMI port.
The hardware overall has not really changed very much from the Kindle Fire HD tablet released last year. I put this newer model in the hands for a few random people over the course of the last week and most could not make the distinction between old and new.
In the end, the hardware may not be the most cutting edge but it blends solid performance with a great price. The vast majority of enhancements are on the software level.
Software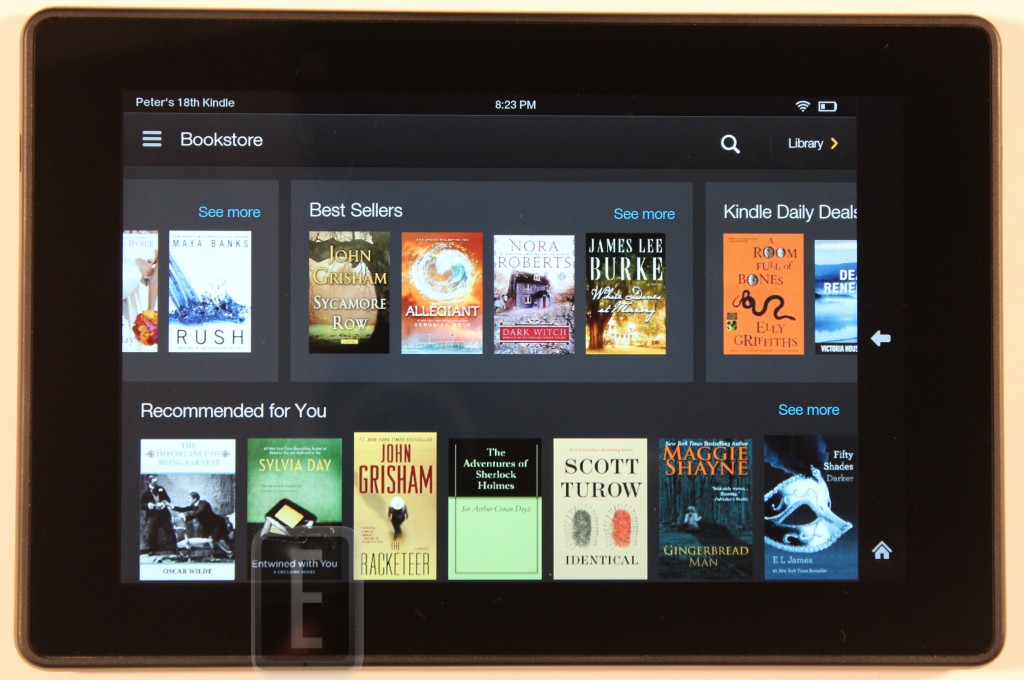 Amazon has upgraded their Android OS to version 4.2.2 and their heavily skinned UI is now dubbed Mojito. The one thing you will immediately notice is the way the home screen has changed. App icons, eBook cover art is higher resolution then ever before and scrolling speed as been enhanced. If you gesture downwards you will see a tray of Android apps, that allow you to easily initiate your favorites, without having to visit the navigation bar. I like this functionality because it allows you to access your favorite apps and jumping through less sub-menus to make it happen.
One of the new features I like is the way photographs are sorted. Everything is done via the Amazon Cloud and it connects to Facebook and your smartphone. You simply have to enter your phones number and then click on a verification text. All photos on your phone will then be synced to your Amazon account and it works the same way with your Facebook pics. This is a innovative new way that buckles the trend of manually loading in your own via the USB cable.
You are chiefly buying the Kindle Fire HD 2013 version to tap into a mighty Amazon ecosystem. There is a copious amount of videos and television shows available via Instant Video and free content awaits with a Prime Membership. The one downside is you need to live in the USA. If you live outside that country you can buy and download content, but not actually watch it.
Amazon has over one million titles in their online bookstore and has a ton of stuff not available anywhere else. They have the most vibrant indie publishing community and there is always a new author to discover. If you feel like a short read, you can buy a Kindle Single. If you are a big fan of Wool, you can read about the expanded universe with Kindle Worlds. There is simply a ton of content that really shines like magazines, newspapers, graphic novels, manga, comics and a ton more.
This tablet is being filled as very kid friendly with the inclusion of Kindle Freetime. Amazon has just announced a promotion where you can get one month free, which basically gives you unlimited kids books and apps to download. After that, a small monthly fee of $9.99 is warranted, but it keeps you kid reading and learning and its worth it. Freetime also allows mom or dad to establish permissions and the time in which the kid can use specific content. For example, you can say your kid can read unlimited books, but only watch 2 hours of video and 1 hour of playing games. Once the time has expired it disables the functionality. I like this because it avoids the whole "Just Five More Minutes!"
e-Reading Experience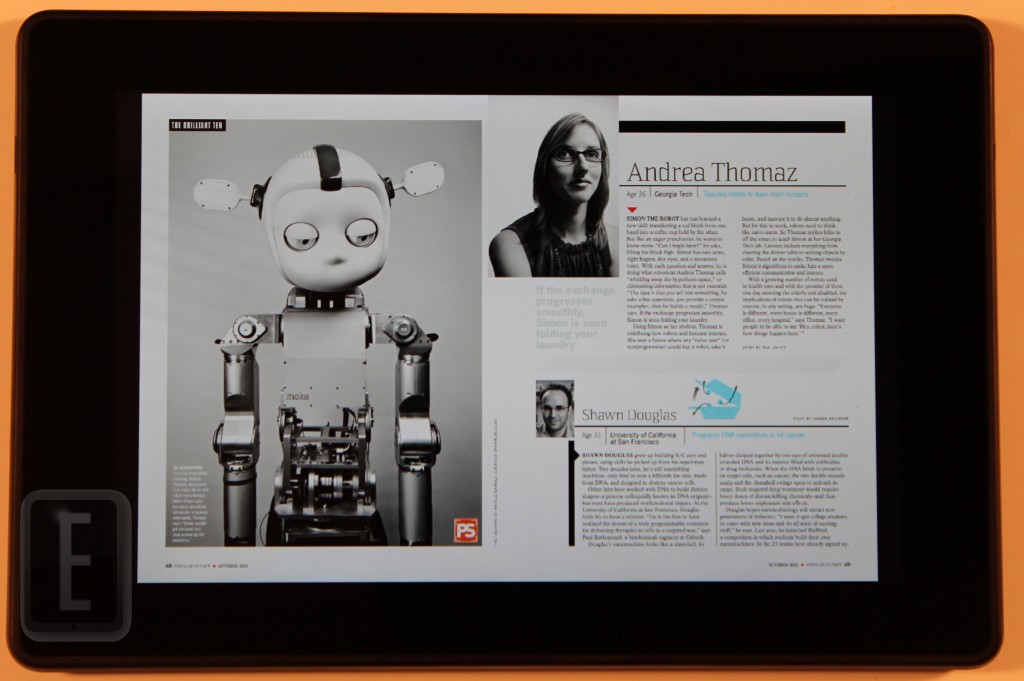 If you have ever read on a tablet before you know that you can get easily distracted. Game notifications, emails, Facebook Status Updates, Tweets and everything else can detract you from the reading experience. Amazon implemented a new feature called Quiet Time which will suspend all data notifications and help immerse you more in reading.
When it comes to reading digital books, you would be hard pressed to find a bookstore other then Amazon that can offer solid prices and a multitude of content. There are thousands of magazines, manga and graphic novels available. There is over 1.2 million eBooks available for purchase and the store is all designed to be very intuitive.
Amazon has bundled their stock reading app on the Kindle Fire when you are reading a specific eBook. You can dynamically update the size of the font to allow you to increase or decrease the size. If the publish default is not up to snuff, you can choose between eight mainstream fonts like Times New Roman, Georgia and many more. Sometimes your eyes can be strained with reading for a few hours on a tablet with a glaring white background. You can change the background to a softer radiant or just change the background to black and text to white.
The Amazon advantage is not just these eBook augmentation options but features like X-Ray, which allow you to dive into the people, places and things in a book. You can get a sense on who the main characters are, major locations and physical objects. You can click on a specific name and see a summary of each page where they are mentioned or directly talking. One feature I really dig is WhisperSync for Voice and Immersion Reading. You can buy a bundled eBook and audiobook and have the text highlight as you are reading. If you read the book at night and end on page 94, you can pick up exactly where you left off on the audiobook during your morning commute.
One new feature is translations which might assist people learning a new language. You can highlight a specific word or body of text and have Bing translate it in 12 different languages. There is also an audio option where a very robotic voice says the word or phrase in whatever language you select.
Magazines for the most part are down scaled and this one of the greatest flaws in the ecosystem. When we put the new HDX and Kindle HD side by side, everything looked exactly the same. There are no compelling reason to buy the more expensive tablet if you are just straight buying magazines from Amazon. Still, you can subscribe to singular issues or yearly. There is enough major publishers on-board that most publications are available.
Amazon sells graphic novels but not single issue comic books. If you want a more varied selection you will have to install Marvel Comics, DC Comics, Dark Horse or Comixology. These apps are not available in the Amazon App Store, as they tend not to stock apps that directly compete against their interests. This forces users to learn how to side load in their apps using 3rd party app markets, such as the recommended Good e-Reader App Store!
Wrap Up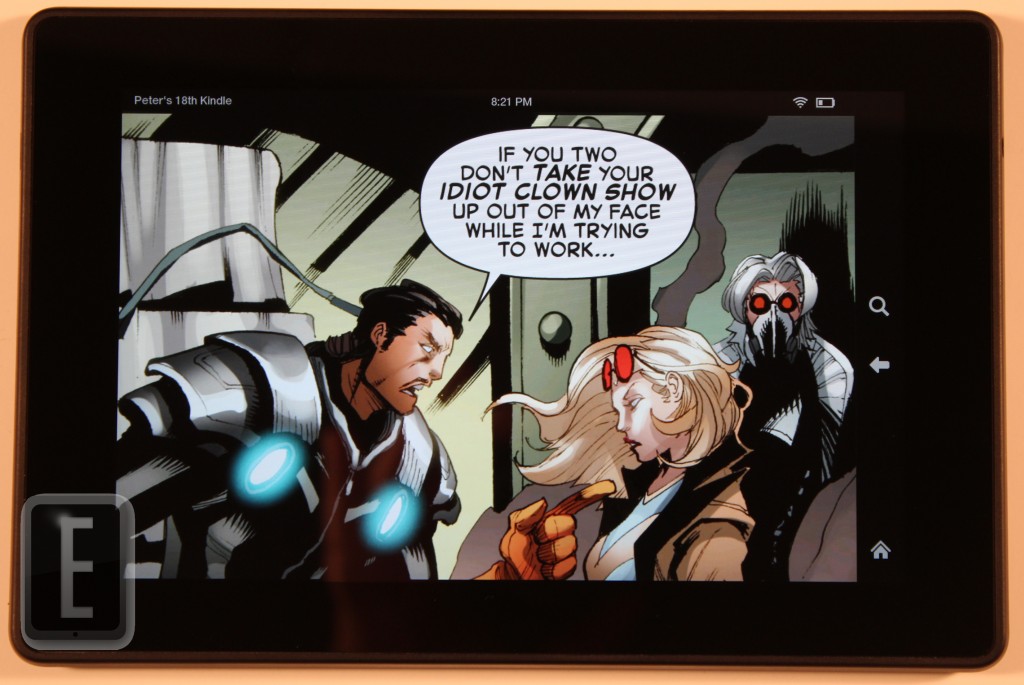 The Kindle Fire HD 2013 edition has sacrificed the built in camera and HDMI port to lower the cost. Most people tend never to take photos with their tablet or ever hook it up to their television, so its not a big deal. There is the HDX line if you those hardware features are very important to you.
The hardware overall is fairly ho-hum and the most compelling reason to buy this tablet is due to the extensive Amazon ecosystem. Some content is unavailable if you live outside the USA, but you can bypass this by purchasing a USA Credit Card and VPN from Shop e-Readers.
In the end, the Fire HD 2013 model is a solid entry level device that is not worth to upgrade if you have the 2012 model. If you have a two year old or older device this might be for you. I think the people who will benefit it the most are students on a budget, a Christmas gift, or for your mom.
PROS
Expansive Amazon Ecosystem
Affordable
Nice Stereo Speakers
A Good e-Reader
CONS
No camera or HDMI cable
Hardware hasn't changed much from the 2012 model
Comic Selection is lacking
Videos only available in the USA
Rating: 6.5/10
Michael Kozlowski is the Editor in Chief of Good e-Reader. He has been writing about audiobooks and e-readers for the past ten years. His articles have been picked up by major and local news sources and websites such as the CBC, CNET, Engadget, Huffington Post and the New York Times.