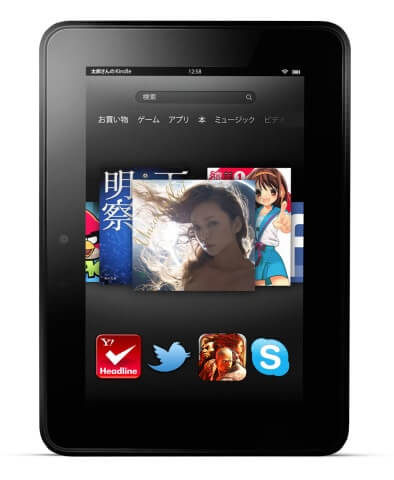 Amazon will launch its new ebook Store in Japan starting October 25th! This will include over 50,000 Japanese-language Kindle books, the largest number of Oricon best sellers, and over 15,000 manga titles. The company will also bring the Kindle Fire HD Tablet and Kindle Paperwhite e-Reader along for the ride.
"After twelve years of selling print books on Amazon.co.jp, we are excited to offer the millions of Amazon.co.jp customers the new Kindle Store, with the largest selection of the books people want to read, the largest selection of Oricon best sellers in books, bunko, and manga, and over 50,000 Japanese-language titles—all available to anyone with a Kindle Paperwhite, Kindle Fire, Android phone, Android tablet, iPhone, or iPad," said Jeff Bezos, Amazon.com Founder and CEO. "Kindle Paperwhite is the Kindle e-reader we have always wanted to build—it has 62% more pixels and 25% higher contrast than the previous generation Kindle, built-in front light, perfect for reading in bed or in sunlight, even thinner, with 8 weeks of battery life."
Amazon has secured relationships with some of Japan's largest publishers, such as Bungeishunju, Gentosha, Kadokawa, Kodansha, Shinchosha, Shogakukan, and Shueisha. This means a ton of popular bestsellers will be available, such as "Mitsukuni Den," "Tsunagu," and "Jinsei Ga Tokimeku Katazuke No Maho 2," and works from authors such as Arimasa Osawa with his entire "Shinjukuzame" series, and Yusuke Kishi with the special limited edition of his best-selling fiction "Shinsekai Yori" only available at Amazon, with a total of 68 exclusive titles. Manga titles include the latest best seller series "Magi," "Termae Romae," and the world-famous "Neon Genesis Evangelion," of which the latest volume # 13 comes out on Nov.2 and is available for digital pre-order only at Amazon.
Russ Grandinetti , the Vice President of Kindle, told us in an exclusive interview that the "Kindle Paperwhite will start shipping on November 19. We encourage customers to pre-order now to reserve their place in line." Since Manga is deeply entrenched in Japan, how can indie authors submit their content? Russ commented that "Independent authors will be able to make their books available in Japanese, with support for the Katakana, Hiragana, and Kanji character sets, right to left vertical reading, as well as heavily formatted books like manga." Speaking of Manga and graphic novels, those genres will feel right at home with the Kindle's ability to focus in on specific panels through the comic book engine.
The digital book scene in Japan has really grown up in the last few years. Ever since Sony re-entered the market successfully, publishers have been warming up to the idea of ebooks. Awareness in general has steadily been increasing since Kobo launched its own bookstore and readers back in July. How does Amazon intend on competing against numerous companies? Russ said "Customers are going to gravitate to the best customer experience, and we think as soon as they see the devices, content and customer experience we have to offer, they're going to be very excited.  I'll add that we've been in business in Japan for 12 years, and in that time we've worked very hard to offer our customers great selection, great prices and great customer service — customers know to expect those things when they shop on Amazon, and that will continue with Kindle and the Kindle Store."
Finally, KDP Select will not initially be available in Japan, but may be unveiled at a future date. People who buy the Kindle Fire HD will also be able to purchase PRIME membership, which will offer free one day shipping but will not gain access to Instant Videos.