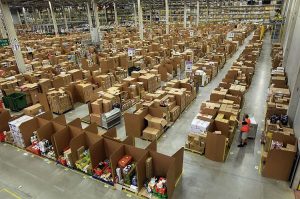 Many major retailers have argued that if Amazon were finally forced to abide by the same sales tax laws that the retailers do, it would even the playing field in terms of what customer have to pay. The retailers felt that Amazon's tax exempt status for customers in most states, as decided by the US Supreme Court twenty years ago, was luring customers away from their local retailers. The battles for an Amazon sales tax were expensive and hard won, but the online retailer has stopped fighting the states on the issue and has even made some multi-million dollar deals to build new distribution centers in key states, as well as reinstated its online affiliates program in others.
Here's why. According to an article by Farhad Manjoo for Slate, Amazon is expanding its series of distribution centers in states where it already is required to pay sales tax—or will be required to soon, in accordance with some of the arrangements the retailer made with individual state governments—in order to provide even faster shipping. One of the perks of the annual Amazon Prime membership is free two-day shipping, and in some locations the retailer is working on same-day shipping as an option. The new distribution centers will make that a reality.
Manjoo also points out that Amazon's purchase of Kiva Systems was meant to streamline those distribution centers with organizations warehouse robots to keep things running smoothly. That purchase will prepare Amazon for factories that send out customer orders in a matter of hours or even minutes.
Lastly, Amazon is already working on a system of drop-off point deliveries, a locker system that allows customers to have a specific item shipped to a password enabled locker in the customer's town. This lets consumers pick up their items from the location of their choice, an excellent option for those clients who may work in one part of a large city but live in another; it's also an added layer of convenience for those consumers who don't want to have to go down and sign for a package that would have been delivered to the front door step while they were at work, or worse, risk leaving an unattended package on the front stoop all day.
Essentially, the arguing and finger-pointing from other major retailers and the cries of "No fair!" only served to make Amazon an even stronger player in the online sales game. Customers will potentially be able to shop from the comfort of a work cubicle in the morning and pick up their already paid-for and selected pre-packaged items on the way home. This initiative only happened because Amazon saw the ability to take full advantage once it was required to collect sales taxes, so rather than continue with the name calling, it might be better to learn from how Amazon adapts to an ever-changing online retail environment.

Mercy Pilkington is a Senior Editor for Good e-Reader. She is also the CEO and founder of a hybrid publishing and consulting company.